This summer was all about how i decided i love pink! so, here's yet another pink/orange/yellow FOTD. but it's matte, and there's glitter liner... so that's different, right??? [pretend you agree to bolster my spirit, cause lately, i feel highly uncreative! =) ]
i mucked up the lashes badly on one side, but i guess with the angle they ended up glued you only notice it when i closed my eyes.
and... here they are!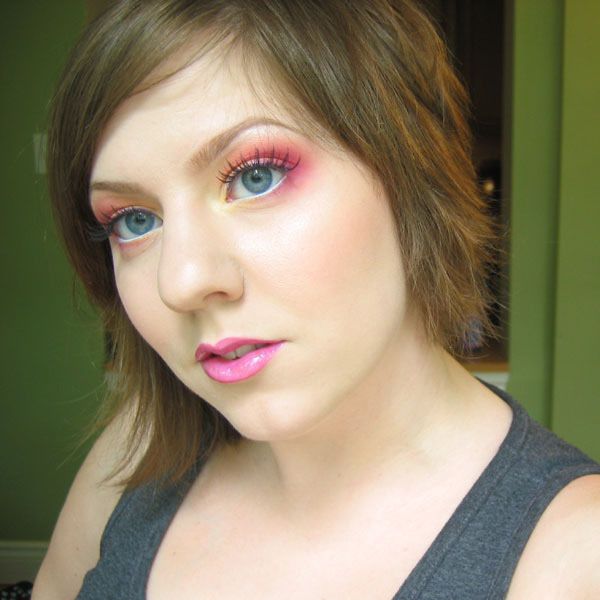 duh... weird face, stupid bad side!!
too close for comfort? yes, yes it is.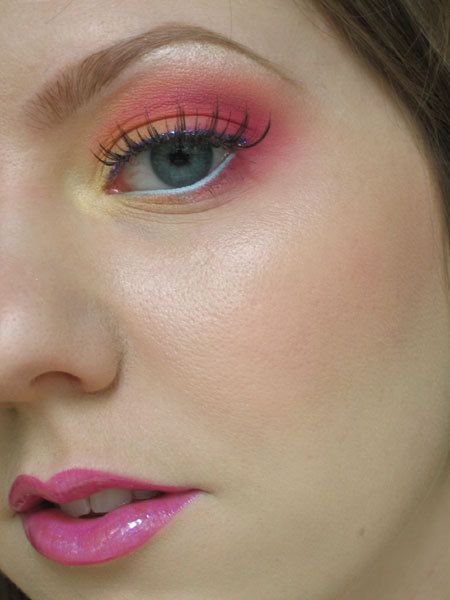 so how bout i post another to further the discomfort. how bout it?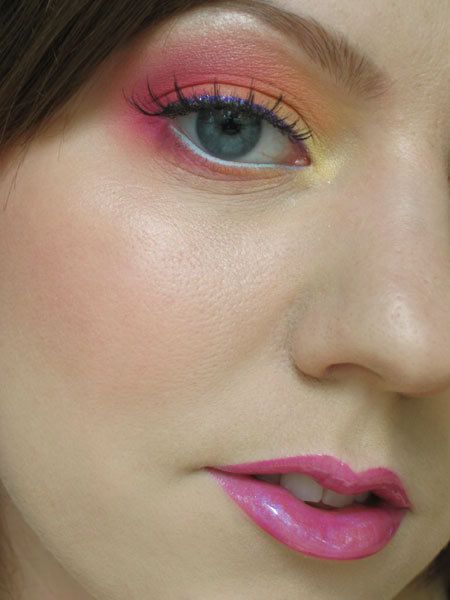 that's more like it! I think the BeneFit High Beam shows really beautifully in this picture... i think it's the reason i get so many compliments on my skin when i wear it + EM
closed-eye photos: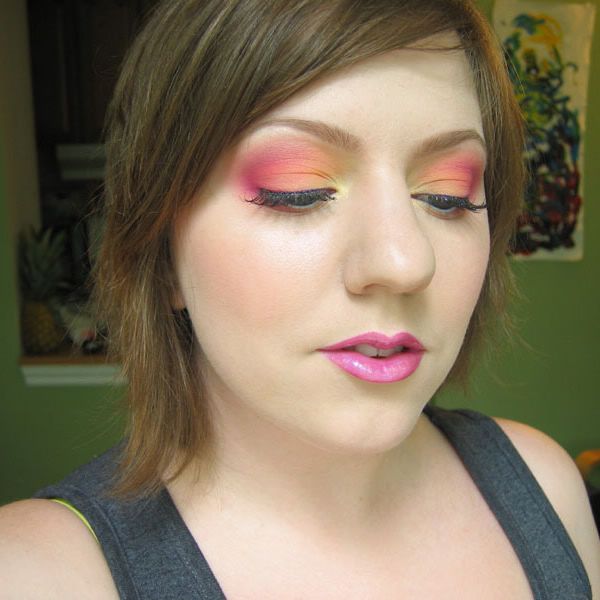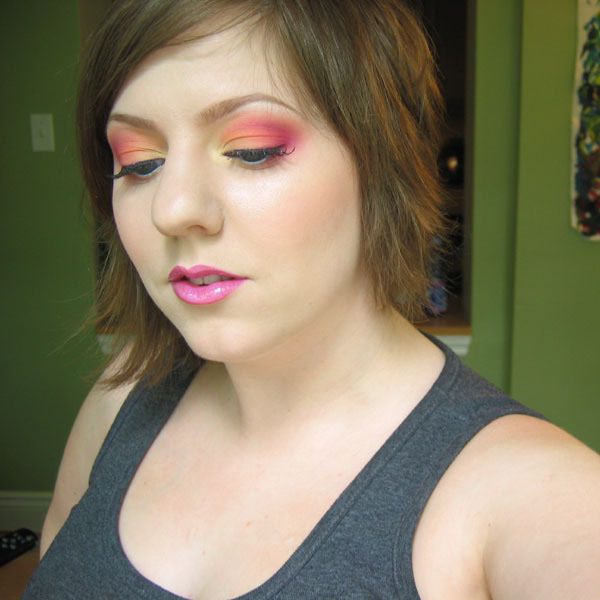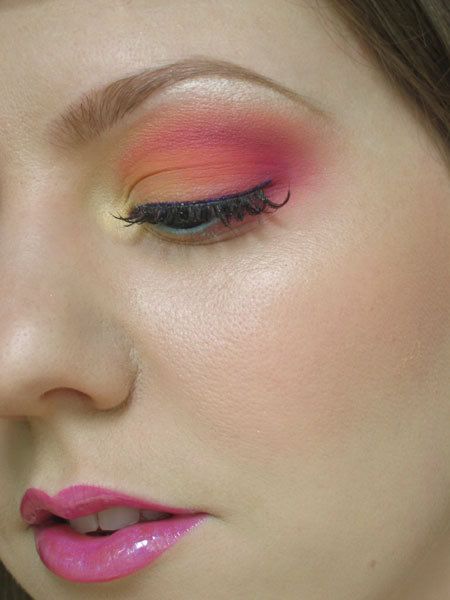 close-ups:
jacked-lashes...!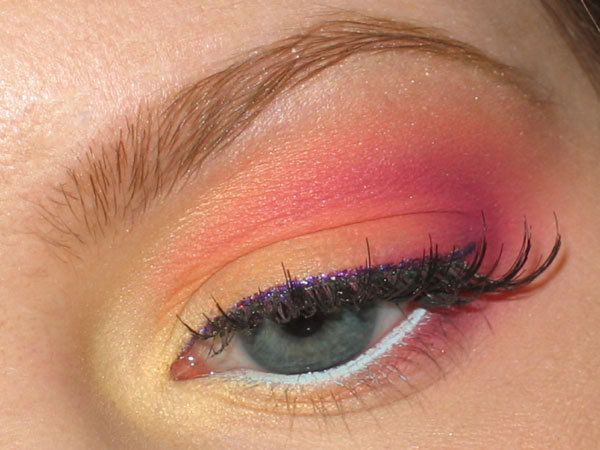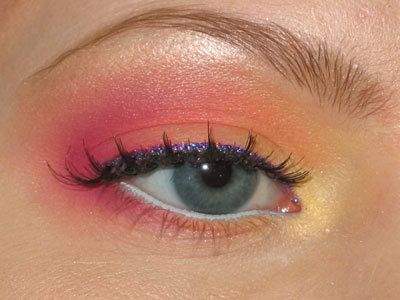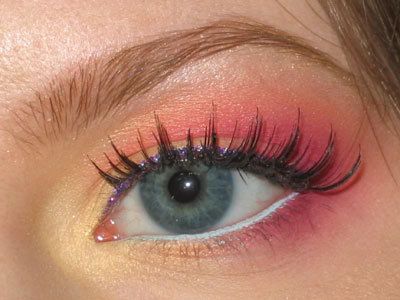 no flash/flash comparison:
BWAHAHAHAHAHA! i look like a clown whore, it's hilarious! go ahead, laugh! save this photo for a rainy day and you feel like crap and i assure you, looking at it will make you giggle! gotta love how mineral makeup makes you look like you're wearing a ghosty white mask in flash photos!
FACE:
EM fair neutral foundation
EM intensive fair concealer
EM finishing dust
MAC fleurry blush + Benefit Georgia + MAC Don't Be Shy
Benefit High Beam on cheeks, chin
EYES:
Benefit LemonAid
Revlon shimmery yellow (think i'm gonna replace this with going bananas cause the revlon one fades sooo quickly)
MAC mango e/s on inner lid and on brow bone
MAC plume e/s on outter lid and above crease
MUFE #58 in crease
MAC nylon e/s to highlight
MAC shimmerline g/l on upper lashline
QUO #804 lashes (at least i'm getting my money's worth out of this pair!)
Lancome long lasting eyeliner in bursting blue
CG volume exact mascara
LIPS:
MAC Crimzone l/s
MAC stiletto l/s
Smashbox l/g in Trend (shimmery blue)
Do you guys like Smashbox glosses? I'm trying to branch out from just MAC ones. I didn't like this one at all... it didn't layer well... even when i took the gloss out of the tube with the doefoot and put it on a clean petri dish and used a lip brush to apply it, it still like, pulled up the crimzone rather than covering it in a cool blue shimmer.