* Not a sponsored post. Specktra received one or more of the products mentioned below for consideration. This bears no influence to the outcome of items selected for this post. All products are tested thoroughly and always reviewed honestly. We do not accept payment in exchange for reviews. We are committed to our members and will only endorse products we truly believe in.

It's that time of the year again when days and nights are getting colder and darker... you know what that means... WINTER IS COMING!
Any GoT fans out there?
It's time to get your dark lip on!
There's just something about a dark lip that looks very sexy, but it can be quite intimidating, especially if you've never worn a dark lipstick before. Nowadays, there are so many choices available in varying hues and formulas that it's easy to get overwhelmed, so we tried and tested as many dark lipsticks as we could from semi-sheer to opaque, cool to warm toned, glossy to matte finish, and we narrowed it down to what we think are the best dark lipsticks currently on the market.
Want the perfect winter shade to experiment with?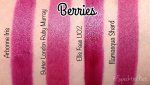 Try a beautiful deep berry shade like
Arbonne Smoothed Over Lipstick in Iris
or
Ellis Faas Creamy Lips in L102
. Both have an ultra creamy, buttery smooth, long-wearing formula. If you prefer matte lipsticks,
Butter London Moisture Matte Lipstick in Ruby Murray
has an amazing formula that's long-lasting, non-drying and does not feather or bleed. We also love
Illamasqua Lipstick in Shard
for a more matte finish. It is a little on the dry side, but a bit of lip balm underneath works wonders.
Feeling throwback to the 90's?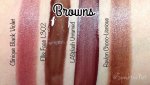 How about a sexy chocolate brown lip color like
LASplash Lip Couture Liquid Lipstick in Untamed
or
Revlon Super Lustrous Lipstick in Choco-Liscious
? If you want something more wearable, try
Clinique Long Last Lipstick in Black Violet
or
Ellis Faas Glazed Lips in L302
. Clinique's Black Violet is more brown than violet, but it has a hint of purple that makes the color look very flattering on most skin tones, while Ellis Faas Glazed Lips' high-shine formula downplays the dark color, making it easier to pull off.
Feeling really daring?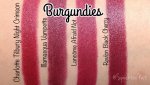 Try a deliciously vampy burgundy shade like
Charlotte Tilbury K.I.S.S.I.N.G Lipstick in Night Crimson
or
Illamasqua Glamore Lipstick in Vampette
for a super creamy texture.
Revlon Super Lustrous Lipstick in Black Cherry
is a good, affordable option with a satin-sheen finish. For matte lipstick lovers,
Lancome Color Design Matte Lipstick in Afraid Not
is perfect for a comfortable matte-but-not-dry finish. All of the four shades mentioned above are very well pigmented, smooth, long-wearing, and non-drying.
Want an even bolder look?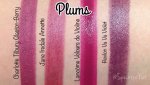 Try deep plum shades like
Charlotte Tilbury Matte Revolution Lipstick in Glastonberry
or
Lancome L'Absolu Velours in Velours de Violine
for a velvety matte finish. If you want a bit of sheen,
Jane Iredale PureMoist Lipstick in Annette
and
Revlon Super Lustrous Lipstick in Va Va Violet
both have a nice smooth, moisturizing formula.
If you've never tried a dark lip before, here are a few quick tips to make this seasonal statement work for you.
Gently exfoliate your lips to remove any dry flakes or patches. Dark lipsticks are not so forgiving when it comes to chapped lips, so use a good lip scrub like Sara Happ's The Lip Scrub, Jane Iredale's Sugar & Butter Lip Exfoliator/Plumper, or make your own with some sugar and olive oil.
Moisturize your lips to ensure the color goes on smoothly. Arbonne Intelligence Lip Treatment and Origins Conditioning Lip Balm with Turmeric are great because they sink in and moisturize lips quickly.
Line your lips to prevent bleeding or feathering then fill everything in to help the lip colors last longer and wear more evenly.
Apply your lip color with a lip brush. Dark lip shades can get messy quickly, so you want to be sure you're precisely putting it on.
Keep the rest of your makeup simple. Wearing a dark lip makes a bold statement, so it's important to keep the rest of your look minimal. Apply a bit of concealer, highlight your natural features, curl your lashes, and add a touch of mascara. If that's a little too minimal for you, play up the eyes by applying a light shimmery bronze or taupe.
If you're still a bit nervous to try a full-on dark lip, apply the lip color and blot, blot, blot for a stained, just-bitten look. You can also go with a translucent wash of color like the cult-classic Clinique Almost Lipstick in Black Honey for a natural "my lips but darker" hue or the newly-released Fresh Sugar Lip Treatment in Fig for a subtle dark hue with shimmer.
Don't forget to check your teeth before leaving the house.
Just pick a shade you love, and wear it with confidence!
30-Day Dark Lip Challenge!
Join us and post a pic of yourself (or simply comment if you're camera-shy) wearing a different dark lipstick everyday (starting whenever you can + 30 days or for as long as you can). This would allow us to rotate our vampy lip shades and perhaps (re)discover other shades in our own or another member's stash.
If there's enough interest/participation, there might even be a prize!

So... what shade of dark lipstick are you lovin' right now? Do you have any tips for pulling off a dark lip? Let us know in the comments below!
Last edited: