Hello ladies and gents! It's been so long (months!) since I've posted an FOTD. I really miss you guys!
So, here is another J.J. makeover! She went for more of a "Sultry Kitty" hahaha... I told her not to go drastic bc, I was still headed for school! hah
I really hope you all enjoy! If you have any questions, feel free leave a message or comment.

Once again,
thanks in advance!
BTW, if your MAC location is sold out of "Something About Pink" polish, OPI's "I Prefer Pink" is almost an exact match.

Face:
Studio Sculpt in NC35
Cheeks:
Tahitian Sand
Fun & Games
Raisin
Eyes:
Quite Natural p/p
Lucky Tom quad
Glitterpuss OR Girl Groove g/l
Hello Kitty Lashes (so fun and flirty)
Fiber lash mascara
Penultimate liner
Lips:
Fresh Brew
Glitterpuss
Nice to Be Nice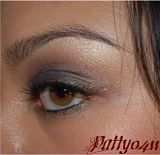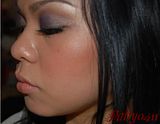 The Wonderful J.J.