I feel like death...
Maybe I'm just weird like this, but when I'm sick and icky, to make myself feel better, I sometimes end up doing my makeup to make myself feel better. I decided on a vampy/fall look today and took and spent an embarrassingly long time on it. FYI - in some of the pictures colors aren't true to life bc I had to use my bf's crappy camera, and in some of them I look just plain creepy bc of the weird flash washing me out - I left a couple in for fun

. I hope you like - pls let me know what you think!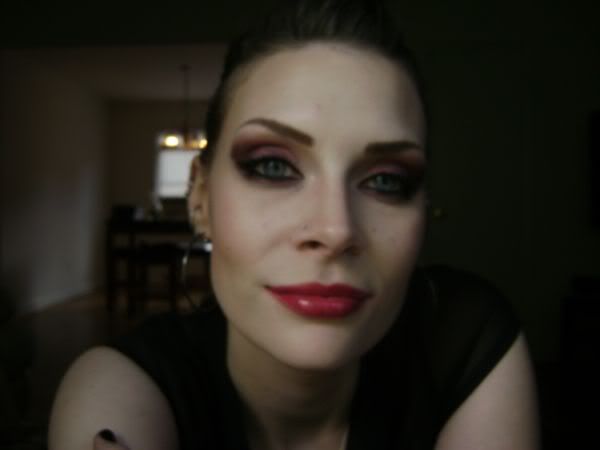 Note bags under eyes as a result of ZERO sleep. Being sick is AWESOME.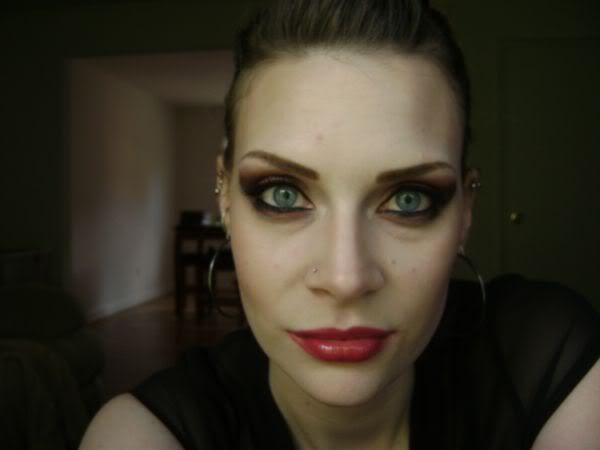 Look y'all, I'm a vampire!!!
Shea, I wish I was outside and not cooped up in the house, don't you?!
Face:
Tarte Makeup Primer
MUFE HD Foundation #110
Benefit Erase Paste in Fair
Stila Perfecting Conealer A
MAC Pressed Blot Powder in Medium
Harmony Blush to Contour
Plum Foolery Blush
Moon River Blush Duo to Highlight
Eyes:
Dipdown Fluidline to shape brows
Espresso e/s on brows
TFSI
Painterly p/p
Coppering and Sketch e/s mixed together on entire eye shape
Sketch e/s on outer corner
100 Strokes e/s on outermost corner
Espresso and Night Maneouvers e/s on outer crease
Coppering e/s above inner crease
Vanilla pigment on browbone & on inner lid/corner
Reflects Blackened Red Glitter on center of lid
Blacktrack Fluidline on upper lashline, set with Carbon e/s
UD 24/7 Eye Pencil in Zero on upper and lower waterlines, and lower lashline
Coppering, Sketch, and 100 Strokes e/s under e/l on lower lashline
Benefit BadGal mascara
Ardell #310 corner lashes
Lips:
Cherry l/l
Dare You l/s
Cult of Cherry l/g
I'm sorry none of these show detail too well... Again this camera is total dog shit. That is the truth.