Administrator
Staff member
Introducing LIGHTWATER Skin Nutrition, an elegant, efficient answer to the stale skincare and preservative-overload world that we're all living in today. Conceived by multiple beauty industry powerhouses with massive track records – CEO & Founder Soo-Young Kang, one of the very first Living Proof employees; Dr. Rox Anderson, the father of the aesthetics industry; and Dr. Fernanda Sakamoto, renowned clinical researcher.
Think single-dose, zero-preservative skincare made from scientifically proven ingredients, crafted into the purest formulations possible. Gentle, but mighty in terms of efficacy, LIGHTWATER Skin Nutrition is completely rewriting the script on skincare.
Why single-dose? So many reasons, starting with product purity. Consider this: When active ingredients in traditional skincare are exposed to light, air, and touch -- which routinely happens with jars and bottles sized large enough to last for several months -- they break down and become useless. Worse, they can start to degrade and become problematic for the skin. None of that happens with LIGHTWATER Skin Nutrition. The brand takes a different approach to what is considered fresh, ensuring that their formulas feature ingredients that are not only sourced fresh, but are formulated, batched, sent, and applied fresh as well.
A simple day / night regimen that easily accommodates busy, modern lifestyles, LIGHTWATER Skin Nutrition features just two products, each packaged together in 28 single-dose pouches. To make great skin even easier, they're color-coded in yellow for day and blue for night.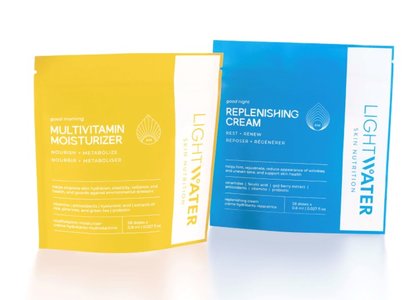 One pack:
$45.50 / one-time purchase
$41 / auto-ship subscription
both products together:
$82 one-time purchase
$69.70 auto-ship subscription
Lightwaterskin.com
​