Hey guys was bored today so decided to try out a few things i bought recently, haven't posted recently as i've looked so crap, had a lot of stress and sadness lately. Anyway cheered me up. Also tried out my Illamasqua rich foundation it has super duper coverage but looks great when it settles into skin. oooo realised one of my lashes is falling off but just ignore that.
(All clickable Thumbnails,Click to enlarge)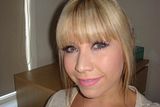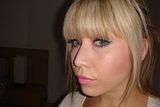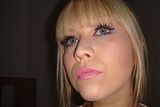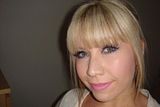 For this look i used....
Face
Illamasqua satin primer
Illamasqua Rich Foundation in 205
Illamasqua blush in Katie
CCB in shell
Eyes
Shadestick in shark
Helium pigment inner corners
All girl pigment
The purple from M'Lady MES
Heatherette shes good lashes the shiny ones
Lips
MAC Magenta Liner
nYX Spoiled lipstick
The above pic has all the same products except from used NYX flower lipliner and MAC snowscene lipglass.
Cheers for looking xxxxxxx