Administrator
Staff member
The Mally x RuPaul Color Cosmetics collection heavily reflects Mally Beauty's long-time mission to make everyone feel fierce and fabulous. True to this belief, this exciting collaboration celebrates the love, passion, expertise and creativity of celebrity makeup artist Mally Roncal and the world's most iconic drag queen, RuPaul. Mally x RuPaul Color Cosmetics is bold, striking, fun and made for everyone.
"Ru and I both share the same philosophy of life and beauty. I feel so honored and blessed to be on this journey with such an incredible human. I just know that these products and the love we will give you through them, will help you look and feel your MOST gorgois!" said Mally.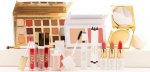 This special edition collection will be available on
QVC.com
(before sold out) and will include:
RuPalette Eyeshadow Palette w/ Limited Edition Double-Ended Eyeshadow Brush ($40) - An eye shadow palette of 18 intense shades of matte, shimmer and all-out sparkle that can be worn alone or over regular eye shadow.
Limited Edition Face Defender w/Sponge ($37)- Special RuPaul edition of the iconic Mally Beauty best-seller.
Hiiieee-Lighter & Ruge Duo w/Blush Brush ($33) - A beautiful and glowing highlighter paired with a universal shade of blush made to suit all complexions.
Draglash Mascara Duo ($29) - A uniquely shaped brush and formula provides a dramatic volume and instant curl to your lashes.
Realness Eyeliner Trio ($28) - These perfect pencils are formulated to glide on easily, set beautifully and last all day. The formula is transfer-proof and crease-proof. Shades: Mighty Love (Rust), Hey Sis (Brown) and Sequence (Black).
Lipstick for Your Life Trio ($32) - Bold, glamourous and creamy lipsticks. Shades: Mama Ru (Red), Teehee (Soft Pink) and WerkRoom (Mauve).
Polished Liquid Lipstick + Discotheque Lip Topper 3 Pc Kit ($33) - Long wearing, high intensity opaque color, the Polished Liquid Lipstick has a soft-matte finish. Shades: Now Prance (Red), Dragmother (Pink), A Shade Shady (Mauve) and Showgirl (Nude). Discotheque Lip Topper is a glossy and shimmery topcoat that creates a holographic sheen giving the look of depth and dimension to your lips. Shades: ConDRAGulations (Iridescent Peach) and Lippy (Iridescent White).