Moving house next month. These are things that I've either hoarded for a while because they were fun to have or things that arrived looking different than I had expected. It is time for them to find new owners that will do more than let them sit in a box.
US Flat Rate Priority shipping, $6.45 for small boxes. For "Make An Offer," include shipping in your rate. For multiple items purchased, I'll include shipping.
PM me if you are international and we'll work something fair out for your shipping rate based on your country and size of your purchase.
Pat McGrath Skin Fetish 003 Nude double ended stick*. Used 3x on each end. Make me a fair offer.
--Brush will be included for a good offer. Brush has been washed 1x.
--Powder will be included for a great offer. Used 4x.
Jeffree Star Skin Frost Ice Cold--used 4x, no box. $25
Jeffree Star Skin Frost Peach Goddess--used 2x, fingernail ding in the pan. $25
Melt Cosmetics DGAF (discontinued), used 3x, no box. I've found both Melt colors to be exceptionally stiff/dry & difficult to apply, to the point that I've emailed them and asked if it was normal. They assure me it is and suggested I apply balm first. $25
Melt Blow, used 3x, box included. I've found both Melt colors to be exceptionally stiff/dry & difficult to apply, to the point that I've emailed them and asked if it was normal. They assure me it is and suggested I apply balm first. $14
Melt Radioactive Stack, no box. Pink and Orange used 4x each. Due to the nature of Neon pigments (again, as they told me via email), the orange started looking a bit pitty after I used it. The green and yellow have only been swatched, though the yellow has a slight ding from what appears to be a fingernail. $36.
NYX alternative colors lip lot, sold in one group--$25
Macaron & Wicked colors in
Key Lime
Lavender
Envy
Violet
Orange Blossom
Betrayal
Will also include Liquid Suede in Sandstorm, used with separate wand 1x
Sauce Box Black Widow Single. 95% left. $12
Morphe E1 brush, giant powder. Washed 1x. $15
MAC 188 brush, washed 2x, purchased myself from the MAC store. Again, never used it as much as I thought.
$20
Dose Of Colors box in Toxic, with box. Swatched with q-tip, never did wear. Approximately 13 months old. $10
Urban Decay SWF, swatched 2x, newest version. $15
Lit Cosmetics glitter in Cayman, size 2, BNIB. $12
Dior Employee, saddle-design brush belt. Vinyl, large metal buckle, will fit small through roughly 2x plus size Again, got this in the above swap. Looks like it has never been used. It wound up being too small for my needs. Make me an offer.
Sugarpill Chromalust Limited Edition loose shadow in Lucid. Swatched 2x, sparkles wound up being more gold than I thought. Even fresh out of the box, the jar never appeared 100% full because this is one of Sugarpill's drier pigments--they settle a lot. Sugarpill fans already know this, but I wanted to make it clear because it can be disconcerting. $30
Urban Decay shadow in Speed, formula is the one before the latest reboot. BNIB, $10
Old school MAC Blue Brown pigment, 2002, back when the batch codes were still pixelated on product. This batch code is AB2. 90% full. This was purchased myself directly from MAC back in the day and it did not come from ebay or a swap. If you've never had the original pigments from the early 00s, the pigmentation saturation of this will really knock off your socks. $40, shipped free.
MAC Deck of Cards by Assouline, standard size deck, with box. Opened but never played or hard shuffled. Purchased direct from MAC Store by me in the early 00s. $40
MAC Employee Lariat necklace, used to be for application/communication certification, this one is circa mid-2000s (they've changed over the years). In two pieces--needs reattached by one of the silver loops, easily fixed by someone crafty. Original box included. Make me an offer.
MAC employee belt buckle, silver brushed matte metal. These were rare, only issued to MAC store employees sometime around 2009. It is the sort of heavy metal buckle to which you will need to provide your own belt. Ridiculously rare piece of MAC memorabilia. Make me a fair offer.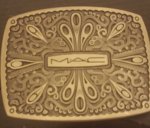 I also have a run of vintage Cosmopolitan magazines from late 80s-early 90s, that golden era of the super Supermodels, some of them with Kevyn Aucoin's work. Also have the Madonna issue from that time frame. Will sell individually or as a lot--if you're interested PM me and I'll make a list/take photos. Have a single issue from the 50s as well.
Happy to provide photos for authentication of products (I'll take it against a piece of paper with a phrase of your choice written on it to prove it is my own photo), but please google for color swatches for accuracy in your purchasing decision. I'm not a fantastic photographer when it comes to color nuances.
It has been a minute since I've sold here, but I have had all positive feedback here in the past and currently have 100% happy folks on ebay I can point you toward if you're considering a purchase. PayPal only, please. Again, International buyers welcome, though it will change your shipping costs so make sure to PM me.
Thank you!
​
Last edited: