hey everybody, i've been a member forever but never had the guts to post. please tell me HONESTLY what you think!!
i used: (all MAC unless stated)
brows- couquette e/s, brow set in beguille
eyes- bare canvas paint
beigeing shadestick
trax e/s
shale e/s
beauty marked e/s
black tied e/s to line
pinked mauve pigment
softwash gray pigment
frost pigment
blacktrack fluidline
covergirl lashexact mascara
click to enlarge!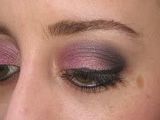 oh, and this is posted several places so i apologize if you've already seen it! thanks for looking!! : ) : )