Well here's my first FOTD. I've pretty much been too chicken to post one since I've started, even though I do swatches and stuff, lol! This has been on since 8:00am, and it's 11:19pm now so sorry if its a bit smudged

What I used:
Face:
Revlon Skinlights in Bare Light
NW15 Select Moisture Cover
Smashbox Photo Finish Primer
Smashbox O-Glow (I never use it, so I figured, why not!)
Smashbow Brow Tech in Taupe
Lips:
MAC Danse
Eyes:
Beige-ing Shadestick
Blacktrack Fluidline
Golden Lemon Pigment under lower lash line
MUFE Star Powder- I don't know the #, but it's the Golden Green colour
MUFE Star Powder- Also don't know the #, but it's the moe intense emerald green
MAC Rondelle e/s
CG Volume Exact Mascara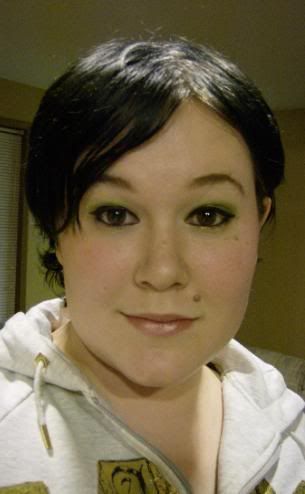 Constructive Criticism TOTALLY welcome! Gimme gimme gimme!