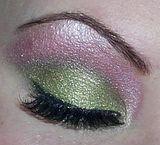 Clickable thumbnails.
MAC Beige-ing shadestick as base
MAC Phloof! e/s on highbrow
MAC Zandra e/s crease pulled up to meet the highbrow
MAC Golden Olive pigment on lid and unde rlower lashes
MAC Chartreuse pigment on lid
MAC Deep Purple pigment in crease
MAC Blacktrack fluidline
MAC Engraved powerpoint lower lashes
Maybelline Great Lash mascara in black
Browaings wam on eyebrows
MAC Embark e/s on eyebrows
Ardell 118 eyelashes
As usual pics aren't that great, I haven't bought any of the Barbie stuff as none of it really takes my fancy so decided to try and recreate the look with what I have already.
All comments welcome.