At the moment I've got a fairly modest collection (by Specktra standards, anyway) but given the exponential growth rate of my collection since December 2007, it's safe to say I probably shouldn't be looking to expand my storage capacity anytime soon.
Anyway, onto (yet another) Malm vanity. Our master bedroom has been done in black/brown Malm furniture and red accents for 2 years, so the fact that the vanity worked for this purpose was a total bonus. Thanks to MissChievous for addressing some lighting questions I had last year when I picked up the table.

Overview:
...The bf wants to rig something to my table so it sounds like a weapons cache when it opens.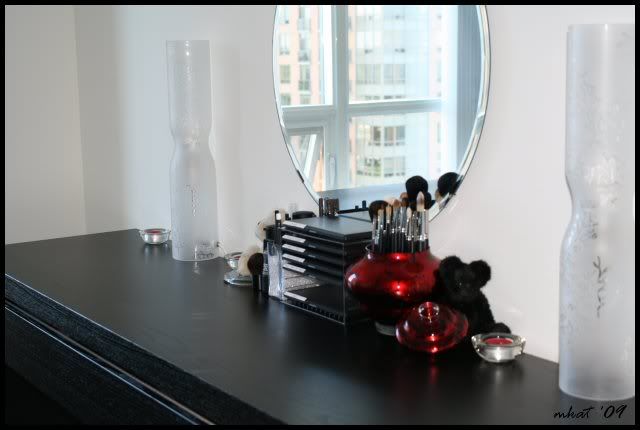 Palette holder:
Brush holder: (Primarily MAC; some Sigma Makeup)
Nail stuff: (China Glaze, Konad accessories, hand treatments etc.)
Face: (Assorted Studio Fix powders; Full Coverage foundation; MSF; Mineralize Blush; Prep & Prime Translucent powder; bronzer; Solar bits; concealer etc.):
Eyes: (Fluidlines; Paint pots/samples etc.)
Other: (CK Euphoria; Body Shop perfume)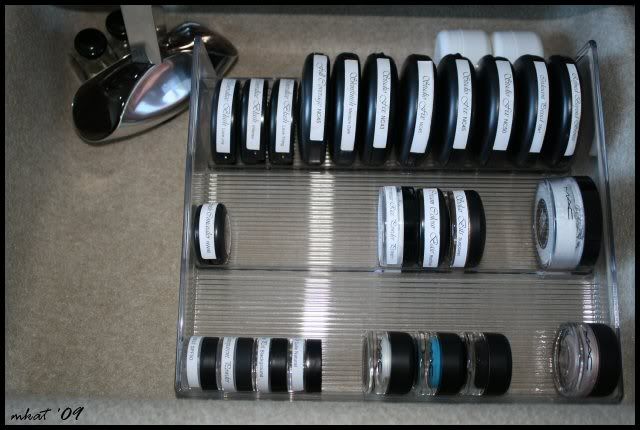 Eyes: (Liquid last liner; glitter liner; shadesticks; UDPP; Fyrinnae eye primer; paint; Too Faced lash injection mascara etc.)
Lips: (Lipsticks; lipglasses; lip gloss)
Other: (Prep & Prime assorted; Matte texture; Faces Metaliglow; Pro paintsticks)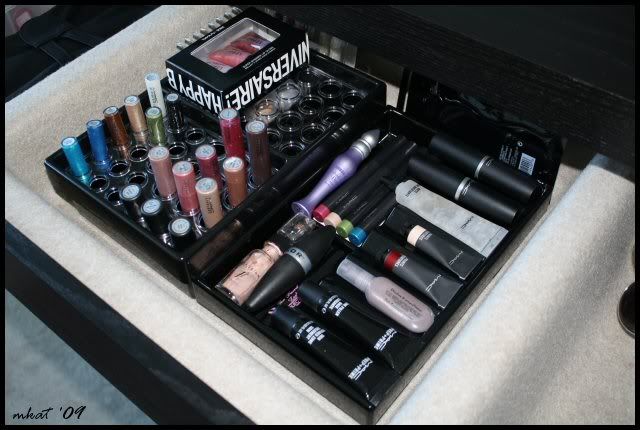 Pigment storage and Sigma Makeup brush roll: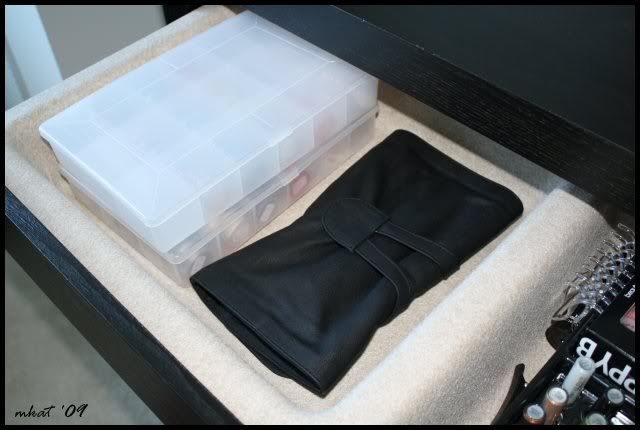 Pigments and loose shadows:
(Fyrinnae pigment box; the other box contains MAC pigment samples, mixing medium, lash glue etc.)
Green/gold palette:
New polish storage! (My recent project, of sorts... It's a Billy bookcase from IKEA. I installed a light on the inside and added a glass door. Plus I changed the doorknob accessory just to make it a tad more interesting. I may swap all the inner shelves for glass shelves so my top light shines all the way through but I haven't decided yet. Right now the only thing on my glass shelf are two lonely NfuOhs. FYI...this MUST be mounted to the wall. Safety first!)
If anybody has any specific questions, please let me know.

Thanks for letting me share!