Hi everyone,
I'm trying to help a friend of mine (I know, she should just sign up here, but she just doesn't!). My friend wants to get a blush for her dark skin. She normally just uses foundation and bronzer. She is generally scared of using pinks because she worries that they will make her looked blushed and she doesn't like that look. I've tried telling her to get a blush but we don't know which one.
Ideally, she wants a blush palette as a pallette will allow her a variety of different shades to work with. I think it's a good idea also. Any good brands out there that are recommended?
Any girls with dark skin like this out there that can give us some recommendations?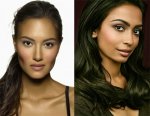 Thanks alot!