Jeeze.. wasn't that name a mouthful

Well anyways.. Here is my first tutorial that i am doing on Specktra. I'm only doing the eyes !! It may be a bit too bright for some people but I like it !
So lets get started !




Here are the products that i used .



(On Left) Kryolan UV-DG Pallette
(Eyeshadows Top - Bottom) Gulfstream, Cool Heat, Climate Blue, NYX Cherry, Bold as Gold, TKB Pop Mica Lemon Drop, Shockwave, UD Flash, NYX Yellow
Blacktrack Fluidline
(Brushes) MAC 219, Loew Cornell #1 Shader, Concealer Brush from Target

& this is the look we are going for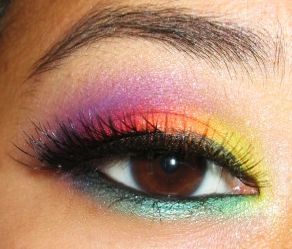 The KRYOLAN Pallette needs to be used wet so i like to keep a little glass of water and a towel near by.
I use a concealer brush but you can use any small brush that is for "wet" products !

How to use the Kryolan Pallette - Dip your brush in water . Wipe off the extra water on your towel . You want the brush to be just barely damp. Run your brush over the color a few times. Then you can apply it on your eye !

Apply UV Yellow on the inner corner of your eye, stopping at the crease .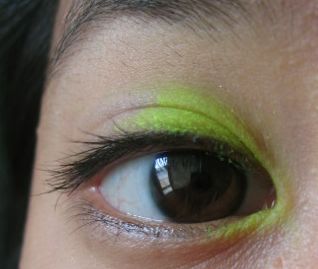 UV-Orange next to it




Then UV Pink next to the orange ! Do not go past the crease !



Apply UV Purple above UV Pink above your crease




Then UV Green & UV Blue on your lower lashline . (UV Green inner UV Blue outer)




Great ! Now you have a super vibrant base for the eyeshadows that you will put on .
Since the area that you will apply colors on is very small, i like to use a small eyeshadow brush such as the MAC 219.

Above UV-Yellow, put a mixture of NYX Yellow and TKB Lemon Drop Pop!




Above UV-Orange, put Shockwave.




Then above UV-Pink put NYX Cherry



BTW I usually blend as I go so with each additional color, i do small circular strokes over the harsh line.

In your crease, apply UD Flash



Apply Bold As Gold on your inner corner, around your tear duct, and on your browbone .




On your lower lashline, apply Gulfstream, Cool Heat, and Climate Blue in that order starting from your inner corner !



Then, line your waterline with Blacktrack Fluidline, apply Mascara/False Lashes and you are done!

For false lashes i used Ardell #165.. i think and another pair of lashes cut in half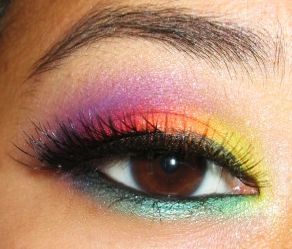 The Kryolan pallette just makes colors that you put on top of it pop!


Thanks for looking !