Greetings ladies!!
So I received my pigment samples yesterday and, as promised, here is my FOTD! I didn't plan it at all, haha. Just sat there staring at all my pretty new colours and grabbed them at random. And I was really pleased with the result.
I used:
FACE:
Covergirl Advanced Radiance Foundation - Creamy Natural
Covergirl TruBlend Blush - Pure Romance
Covergirl Pressed Powder - Buff Beige
EYES:
MAC Paint - Untitled (as base)
MAC Pigment - Helium
MAC Pigment - Pink Bronze
MAC Pigment - Forest Green
MAC Pigment - All Girl
MAC Pigment - Frozen White
Bonne Bell Liner - Black Ink
Maybelline Liquid Liner - Black
Maybelline Volum' Express Mascara - Very Black
LIPS:
Avon Glazewear - Coral Gables
MAC Lipstick - Sandy B
Cheap Lip Gloss
Enjoy!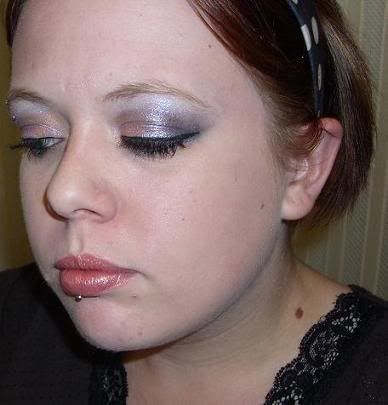 And a fun little collage (w/different lighting)