This look is the last in my mini series. It wasn't inspired by anything in particular, like some of the other looks in the series. I wanted to use the two purples on the bottom left of the palette, because I hadn't done much with them. And I had picked up a purple cream eyeliner that I wanted to try out, so I used that in the mix as well.
For this look, I took the cream eyeliner and the angled brush that came with it, and drew out my crease. I then blended it a bit, and added the more matte of the two purples on top, and blended that out as well. On the rest of my eyelid, I used the second color on the left side, which is a light purple. On my lower lash line, I used the cream eyeliner again, and on top used the last purple shade on the left side of the palette - it's kind of a shimmery periwinkle,
almost
. I really liked the way that the eyeshadows looked on top of the cream eyeliner, though the combination of the darker purple and the eyeliner gave me a color very close to what I got when I added the last purple on top of the gel.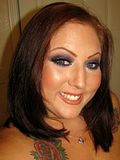 Foundation & Concealer:
Graftobian HD Color Correction concealer palette
Graftobian Hi-Def Glamour Creme Super Palette - Neutral
MAC Mineralize Skinfinish Natural - Medium
Blush, Bronzer, etc:
Palladio mosaic bronzer
ELF contouring bronzer/blush duo (both sides as blush)
Eyeshadows:
Wet n Wild Petal Pusher Palette - Described above
Eyeliner & Mascara:
L'Oreal Voluminous Million Lashes
Beautique black pencil eyeliner
ELF cream eyeliner in Plum Purple
Eyebrows:
Maybelline blonde eyebrow pencil
MAC Shadester contouring powder
Lips:
Beautique Mocha lip linerMAC Honey Love lipstick
MAC Love Nectar lipglass
Misc.:
ELF eyelid primer
Olay Complete moisturizer
Smashbox Photo Finish Color Correcting Primer in Blend
Lashes: Ardell Demi Wispies