Decided to try a fairly strong colour combo and this is what I ended up with. Not sure if I intended to go this way but meh, it happens. As you can see, some of the pics have been whitened out, I have such a shit camera.
All clickable thumbnails.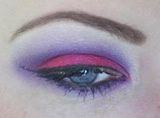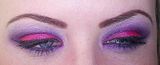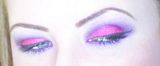 Put this one in as an accidental arty farty piccie *grin*
What I used:
MAC Studio Fix Fluid
UDPP for base on eyes
MAC Bright fuchsia pigment on eye lid
MAC Vanilla pigment on highbrow
MAC Parfait Amour in crease, blended up to the highbrow and under lower lashes
MAC Entremauve pigment to darken in the crease and outer lid
MAC Engraved powerpoint on waterline
MAC blacktrack fluidline
MAC Shimmerline glitter liner under lower lashes
Benefit Browzings wax on eyebrows to shape
MAC Embark e/s on eyebrows to add colour and define.
Chanel Cils a Cils mascara in noir