Hola beautiful chicas!!!
I wanted to share some recent pictures of my work.. A Quinceañera and her family. Excuse the date that's on the camera, I didn't realize I hadn't set the date correctly until I uploaded them. So yeah, I hope you all like! ;-)
I'll start with the Quinceañera
I wasn't able to take pics of her right after I did her make-up cus she had to get dressed. She invited me to her party and I went so I could get a couple of shots lol. (MAC digit, prafait amour, shroom and a no name dark purple. Mocha blush with porcelain pink MSF)
This is the Quinceañeras mom.. and omg let me tell you, she had not slept the day before and had the biggest dark circles ever!! I put some of Benefit's Erase Paste and set it with powder, it seemed to help..She was defently my biggest challenge that day (MAC Silver Ring, Electra, Carbon, Ricepaper)
Here is the Quinseañera's aunt (MAC Amber Lights, Phloof, Embark,Courdiroy. Peaches blush, a lil bit of glissade msf)
The sister.. (took me 10 minutes) (Black tied, pandamonium, silver ring, and Shroom. Mocha blush)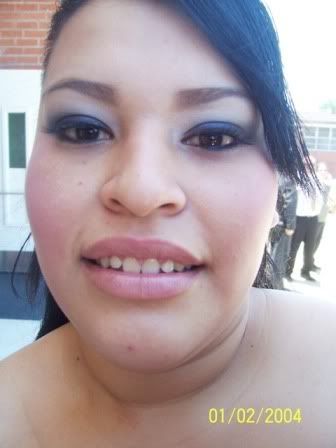 Another aunt lol
As you can imagine it was a very crazy morning, I didnt want to take anymore of their time so took pics with my camera whenever I could. Good thing is they are going to send me pics the photographer took to add to my portfolio.
Here is an extra pic of me in action LOL
I look like crap I know.. I had to start super early because the Quinceañera's church ceremony was at 10am!!
I'm going to keep trying my best to post pics of the make-up I do...