Low Buy Check-In ~ February 2018

Purchases:
the Ordinary – Salicylic Acid 2%, Glycolic Acid, Lactic Acid 10%, Niacinamide and Vitamin C 23%.

MUFE Ultra HD Microfinishing Loose Powder – eBay purchase, saving 50% retail.

Ulta 20% Coupon: ABH Clear Brow Gel – I just prefer this over the benefit Browsetter Gel. OGX Curl Cream & Anti Breakage Serum – Planned purchase BOGO 50%

(3) Deluxe samples of Lancome Cils Booster XL (mascara primer) - eBay

Rollover of +$32.78 from January. Total spent for February = $100.15
OMG! This is just under 15% of what I spent in February 2017!

Also noting here, that is the month I spent the most money last year!
Gave Away /Disposed Of/Used UP:
Gave away: Nothing makeup related this month. Gave away lots of clothing and donated several bags to Good Will.

Disposed of:
UD 24/7 Eyeliner stub – RoachL'Oreal Voluminous Lash Primer – Time to replace.
Mascaras – L'Oreal Voluminous Lash, Voluminous Feline, Urban Decay
A stash of L'Oreal foundations, liquid concealer and concealer pencils.
Stila Liquid Eye Primer – Suspiciously cloudy, had to go.
(9) Old Crowne, Sigma & Sonia Kushak makeup brushes
Olay Regenerist Serum; Wrinkle Reduction Serum – Old and not used for at least a year.

Used Up: Eternity EDP 3.4 oz. – Replenished

Will Dispose Of:The usual round of mascaras.

On The Horizon:
Still #shoppingthestash2018 or #shoppingmystash2018 .

MTHRSHP Sublime Bronze Ambition Eyeshadow Palette ~ Now I know I said no premade e/s palettes…so this is just in my

list right now. I would really need to swatch it. All other eye shadow palettes have just received a glance at best. Really nothing is appealing to me.

Okay…does the UD Backtalk palette get to slide through, because it is also a blush and highlight palette too?! I think it is really pretty and it is in a different color family.

eta: March 5th ! Viseart #7 Siren Palette...sigh...a new release, this one gets bumped to the top of my list. I am still loving all over my Minx palette. I would use all the shades in the new Siren. Bonus is, that these pans can be put into a custom palette.

NARS ~ Coucher de Soleil Trio – This is a definite purchase for March.

NARS ~ Keeps on killing it with cheek products…there are 2 blush palettes coming out and I am intrigued with the darker of the two.

Favorites of the Month

:
Setting my primer with powder. A Jackie Aina trick, I finally got around to trying. It is also why I went ahead and replenished my MUFE powder. I am here to say, it works for keeping makeup matte longer and I think also extends wear time. It does not work if you use your fingers to apply liquid foundation, but is great with damp sponge application.

Random Blah Blah:
Wireless Earbud Update ~ Turns out I was able to order a pair right at the end of January. I received a refund check for a faulty mini-fridge I purchased for my library kitchenette. I had paid for it outright and completely forgot the refund was coming. I shopped around, went through eBay and got a discounted pair of BeatsX in matte gold…my gold obsession is holding strong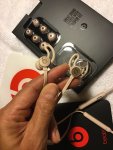 I ended up replacing both my gym bag and my work tote. A strap on my work tote (a Victoria Secret freebie from a couple summers ago) broke, in such a way that I could not really repair it. Oh well. Both bags are by Kipling, I got them both in neutral metallic shades and on sale. I am very happy.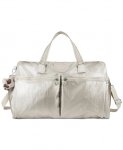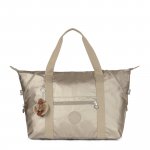 And that's all she wrote for February. My March budget is being seriously challenged by NARS...lol I am going to do my best to stick with it.


Yaaaaay! Spring is just 3 weeks away!
Last edited: