Administrator
Staff member
Inspired by their founder's personal struggles with hair loss, TAYLOÁNI was founded in 2011 with the hope of empowering other women with shared experiences of hair thinning and creating a revolutionary lineup of products to tackle these concerns from the
root
.
Meticulously formulated, the
Infinigrowth Bundle
— which includes the Infinigrowth Hair Masque, Thermocap, Hair Detangler, and Shower Caps — is an
all-in-one hair growth system that combines powerful active ingredients with cutting-edge technology to achieve maximum results with minimal effort and time
. The multi-step bundle effectively improves the hair's texture, frizz, and overall appearance to create, encourage, and maintain a healthy hair transformation.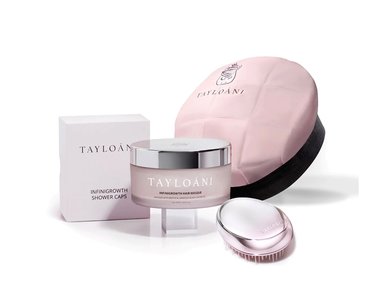 ​
KEY FEATURES —
Addressing the issue at the root, the Infinigrowth Thermocap is the world's first microwavable cap and gradually warms the hair to gently open up the follicles and prep your hair and scalp for maximum absorption of the Infinigrowth Hair Masque.
Beneficial ingredients in the masque such as Biotin, Arnica Montana, and Jojoba Oil penetrate up to ten times deeper into the follicle to repair and replenish broken hair from top to bottom.
Improves hair texture and shine while effectively treating split ends and taming frizz.
With over two hundred 5-star ratings, TAYLOÁNI has developed a loyal following of customers and boosts a 95% success rate.
Sulfate, paraben, and cruelty-free, these vegan hair products are suitable for ALL hair types.