This is a super dramatic look I did for my little sister. We just wanted to do something fun and different. We used upper and lower falsies! We were mildly inspired by a photo shoot of stunning Kim Kardashian
This is pretty dark and smokey with a dark lip so it's obviously not for everyone but we decided to have fun and try a more high-fashion look. I think she looks gorgeous, but she's always beautiful
Products Used:
-MAC Studio Sculpt Foundation in NC15
-MAC Blackground Paint Pot
-MAC Carbon Eyeshadow
-MAC Electra Eyeshadow
-MAC Fluidline in Blacktrack
-Coastal Scents Platinum Gel Liner on inner corners
-MAC Gentle Mineralized Blush
-MAC Hipster Lipstick
-Kiss Lashes from I-Envy in Au Naturale 02 on the top lash line
-Kiss Lashes from I-Envy in Paparazzi 03 cut to fit the outer two thirds of the lower lash line
-Rimmel to the MAX Volume Flash Mascara in Black
I loved the lashes-they were super easy to apply and looked fantastic!
More Photos: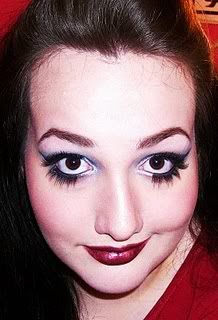 Hope you like it!!