I can't believe I'm actually saying this, but I think I would have rather been at work the last two days than be stuck at home due to the snow... I am SO BORED and there is nothing to do. Today I thought I'd play with makeup to try to entertain myself.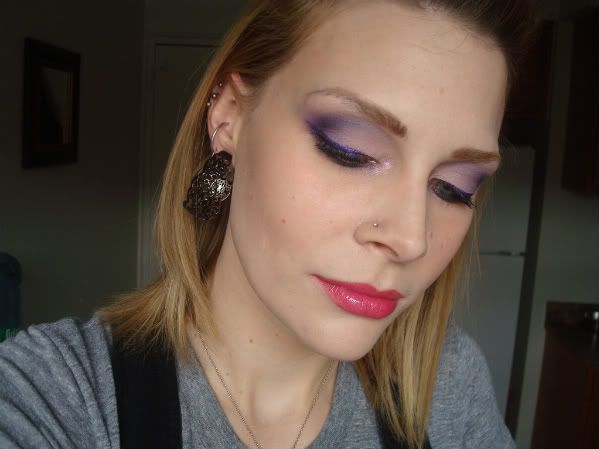 Face:
Benefit Erase Paste in Fair
Benefit Boi-ing Concealer
Silicon Spheres
Strada Blush to contour
OCC Airbrush Makeup:
OCC Skin Primer
OCC Skin Foundation in Y0
OCC Blush in Peach
OCC Highlighter in Sunset
Eyes:
UDPP
Girl Friendly p/p
Yogurt e/s
Inglot matte e/s #379
MUFE #92 e/s
Indian Ink e/s
Beauty Marked e/s
Parfait Amour e/s
Beautiful Iris e/s
Fascinating Eye Kohl
Shroom e/s
Reflects Transparent Pink pigment
UD Ecstasy Liquid Liner
UD Oil Slick Liquid Liner
Smolder Eye Kohl
MUFE Smoky Lash mascara
Quite Natural p/p on brows
Lips:
Pink Treat l/l
Impassioned l/s
Electric Fuchsia l/g
I hope you like! Comments, critiques, and love all welcomed!