Hi! This is a place to talk about all things Wander Beauty!
Wander Beauty is a wonderful brand that features both cosmetics & skincare! From masks to skin mists & lipsticks. Wander beauty does it all.
Wander Beauty has generously gifted us 2 essential kits. 4 kits are Available in total.
Featured are Airplane Mode Mini Skincare Kit, $49
If you buy this kit you'll receive, 5 mini essentials. Drift Away Cleanser, Dive In Moisturizer, Baggage Claim Gold Eye Masks (a fave), Glow Getter Mist & Glow Ahead Face Oil
Second pic are swatches of the Cloud9 Mini Lipstick Se, $30. If you purchase this kit, you'll receive 4 mini silky pigmented lipsticks. The formula is luxe & smooth. These are a creme lipstick, no matte here!
Thank you #wanderbeauty !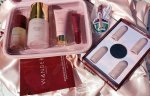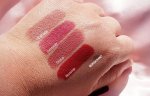 While these items were gifted, this review is honest & truthful. Specktra.Net has not been paid and/or given product to make a false review.