Well my friend and I set each other a face mask challenge. I was to do an Xmas Elf and My friend was to do a butterfly mask.
eta:
http://www.specktra.net/showthread.php?t=82577
Friend Katie's Butterfly look
I would like to stress that at no point was I told it was to be a happy Elf.
To be honest I think I am still channelling the Halloween vibe, although I can say with absolute certainty, I have channelled my inner Hobgoblin!
All clickable thumbnails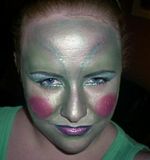 What I Used:
MAC Studio Fix Fluid
MAC Golders Green pigment
MAC Emerald Green pigment
MAC Teal pigment
MAC Vanilla pigment
Maybelline emerald green liner pencil
NARS Taos blusher
MAC Bright Fuchsia pigment
MAC Divine Lime glitter liner
MAC Sweetie Cake lipglass
MAC light green glitter
MAC Lust Dust Glitter
MAC Rocking Orange glitter
Too Faced lash injection mascara in black.
Any parents need me to put their kids off of Xmas? This face will certainly do it lmao!!!
I was going Elf Vixen, but it looks like I wandered out of Mordor instead, yup, it would appear I am Sauron's biatch!