Posting my first haul here on the forums (but not my first haul EVER

). Went a little nuts with all of this, especially with Color Craft not too far off, but I love what I got! (Also note that everything is pictured on top of a MALM dressing table! ;D)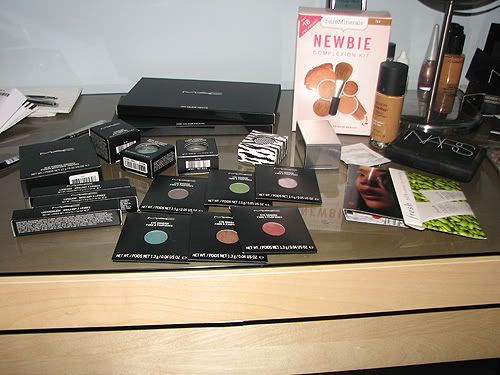 MAC stuff. I got...
2 15-pan e/s palettes
219 brush
Blacktrack fluidline
Blot powder in dark
Venetian l/g (OMG I LOVE THIS COLOR!)
Buzz l/g (THIS ONE TOO. Seriously considering getting a backup)
Lychee Luxe l/g
Satin Taupe e/s pan
Shimmermoss e/s pan
Woodwinked e/s pan
Expensive Pink e/s pan
Nocturnelle e/s pan (this is much more purple than I thought... I really need to swatch colors first before buying

)
Swimming e/s pan
Newly Minted e/s
Vibrant Grape e/s
Buckwheat e/s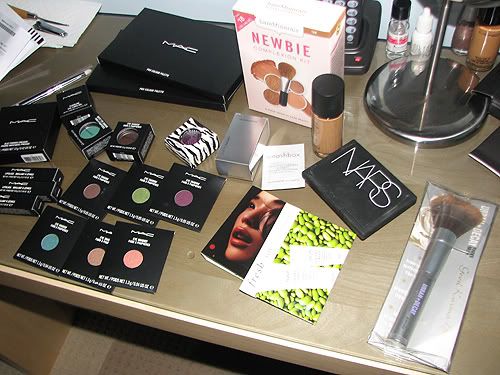 Sephora stuff. I got...
Bare Minerals Newbie kit in Tan
NARS powder foundation in Sedona (not sure if I'll be keeping this)
Urban Decay Good Karma powder brush (LOOOOVE THIS BRUSH! It's so so so soft, feels wonderful on the skin)
Samples! Including Amore Pacific Enzyme Peel (how much of this stuff do you use at once?!)
Also Revlon ColorStay in Toast but I got that from Walgreens, not Sephora.
I'll be posting a Color Craft haul in July for sure!

​