Nope. I think the bubbling was a topcoat thing. The only things I ran into: lint while swatching (ugh), and a slower-than-average dry time.
Monochrome, 3 coats, no top coat: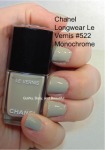 Camelia, 3 coats, no top coat (I was having problems getting a good photo):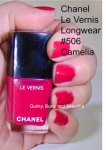 Bottom line: both behaved nicely, no bubbling issues. Long dry time (but I was also impatient). I'm looking forward to grabbing Le Gel Coat to really test these out.