Hi everyone! Here's a picture tutorial doing cheetah/leopard nails.
All you need is:
Paper
Light gold
Bronze
Black
Tooth picks
I'm using NYX girls nail polish in bronze goddess and dance floor (I bought this thinking it's black.. it's a VERY VERY dark brown.)
The light gold base is Pure Ice in Jaguar.
You can use your nail polish base/top coat of your desire! I'm not using a base, just a top coat (Seche Vite, new found love!)
First, start off with your nails painted the base color. I'm using Pure Ice - Jaguar, 3 coats. Wait for it to dry completely.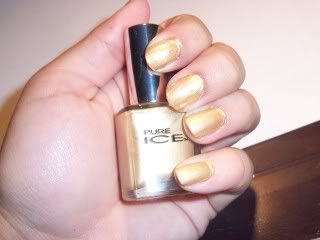 On a piece of paper, or envelope to avoid it seeping through the paper, dot the bronze color on it. With a tooth pick, gently dot random spots/splotches. They do not have to be even. None of them are supposed to be meant to look alike! A dotting tool can also be used. Tooth picks are easily found in most in not all homes.

Quite cheap too!
If you feel the texture of the paint on the paper starts to get thick and "stringy", dot new nail polish on ANOTHER area of the paper. Don't put it on top of the current one.
It should look something like this:
Now, dot the black shade on the paper. On a separate place of course! Using a clean tooth pick, gently do c's and backward c's around the spots you have on your nails. Again, this is not supposed to be completely accurate. We want it to look authentic

.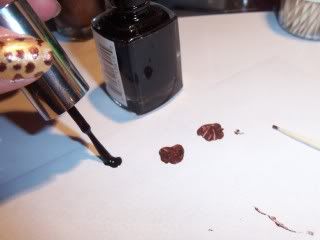 When you're done, it should look like this:
Quite chic, yes? I get tons of compliments at work wearing this! Make sure to let it dry a bit before applying your topcoat. You don't want to smudge the paint.
You can also use other colors like a light pink base, dark pink spots and black "contour".
I hope you enjoyed this tutorial!