Hello! I'm still alive! haha... I've missed you all, I just haven't been posting any FOTDs lately.
I just got back from my makeover at our local MAC and I loves it!!! The colors are so purdy! haha... I LOVE, LOVE, LOVE Kirsch. I was a bit intimidated but it turned out so well.
I was so tempted to buy the Tempting quad, but I just stopped myself. I had to... haha..
I hope you all enjoy the look as much as I did!
Thank you all in advance!
*I will try to remember everything she used*
Eyes:
Prep + Prime eyes in Light
Artjam paint (I think)
Shadowy Lady quad - Lightfall (inner), Smudged Violet (far center, almost close to the outer), Shadowy Lady (outer), Deep Truth (I'm not sure if she used it)
Feline power eye kohl
Plush Lash Mascara
Walnut/Ivorie brow shader
Face:
Studio Mist in Light Medium (I really like this! It doesn't go on streaky at all! and it gives you the perfect coverage (I think

))
MSF Natural in Deep (I think)
Blot powder in Medium Deep
Blooming blush
Blonde's Gold pigment
Fix +
Lips:
Spiced lip liner
Kirsch mattene lipstick
Liqueur tinted lipglass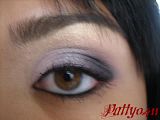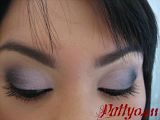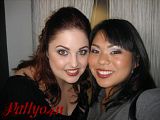 My MA and I. I loves her!