Hey guys! Was december as crazy for you guys as it was for me? I hope you all had amazing holidays and I wish you all a happy new year! I haven't been around at all, and hopefully i'll find time soon to catch up on everyone's awesome FOTDs.
Anyway, I bought the McQueen paint pots in October because they were so sexy, but I didn't get around to trying them until a month later. I found them a bit of a challenge to use, but once I got the hang of it, I ended up with a crazy cool colour combo. I was inspired by the Egyptian theme of the collection, so I did a bit of a spin on it but instead of one bold colour up to the brow, I wanted to something a bit more dynamic, colour-wise. I hope you all like it! There are 3495843958630459035 pictures... but I think this has dethroned my former favourite FOTD! My way of justifying this many photos is I added a few colours slowly after the initial look. haha. I'm a jackass.
You all should be proud of my proactivity: I took photos after every step, so if people want, I *can* make a tutorial in the tutorials section. Usually when I get requests, I never make tutorials because I A)hate redoing the same look twice, and B) it takes so long and I think I'm too verbose, but this time I though ahead! It'll probably take a while to put together, but I'll do it if I get requests. I also made a few short videos showing what it looked like in real time, check me out on youtube my name there is neuterus).
Oh, and thanks again to everyone's well wishes for my mother's improved health - she's halfway through chemo now and about to switch regimes to a new set of drugs, which is scary, but i think it'll be good in the long run. She lost her hair the second week after her first chemo session, but we got her a G.I. Jane buzzcut(she has the most perfectly shaped head - I swear she could go without a wig in public and look great!) and then a great wig that no one knows isn't her normal hair. Though she's tired and her stomach isn't in the best shape, she's in good spirits, and i think the chemo is doing its job. We spend most weekends together playing Boggle for 6-8 hours a day(if anyone knows any good places to play boggle games online, let me know!)!
Enough gabbing! On to the pictures!!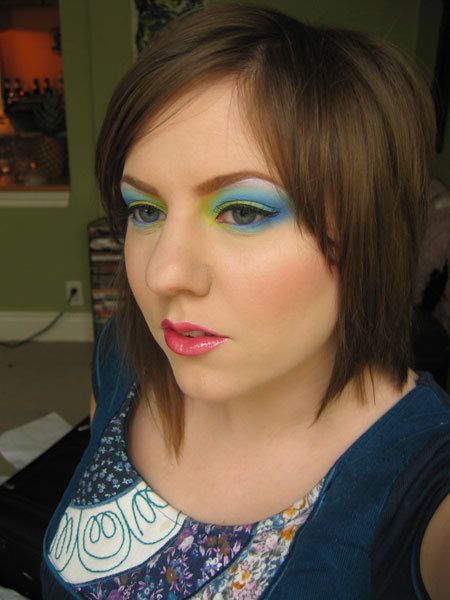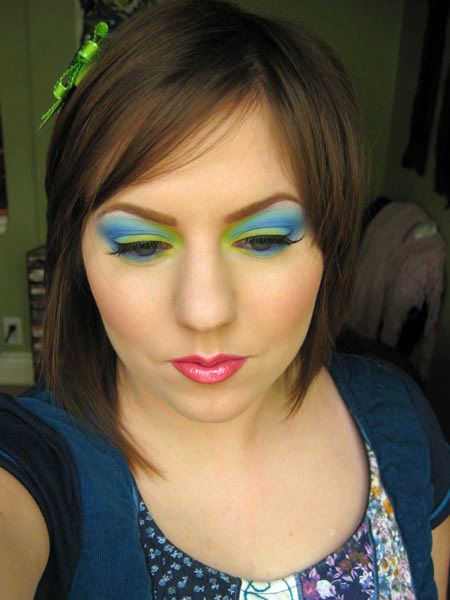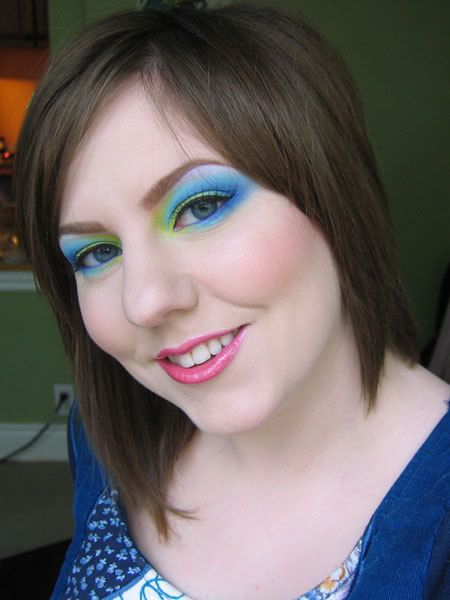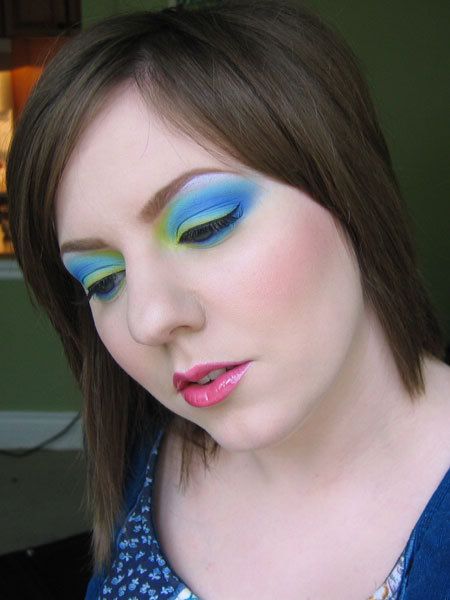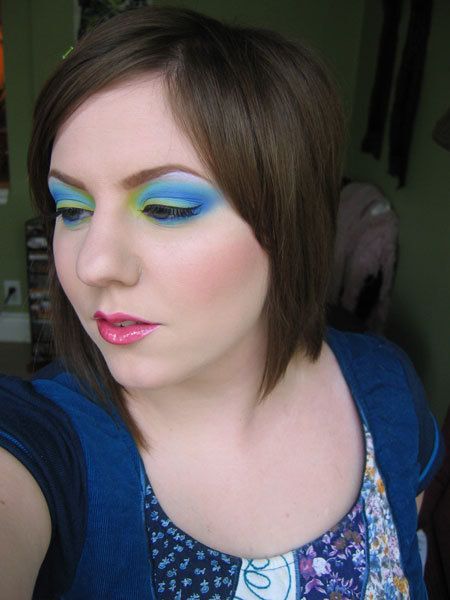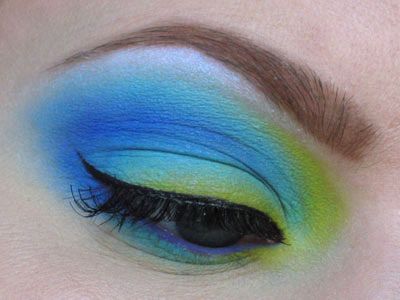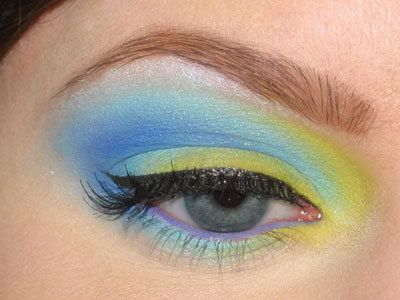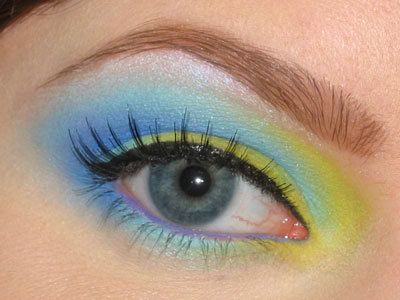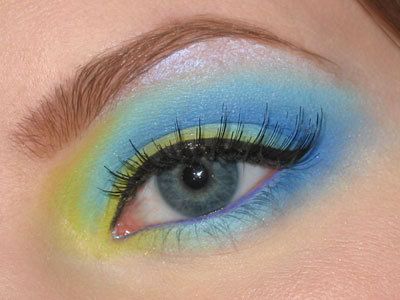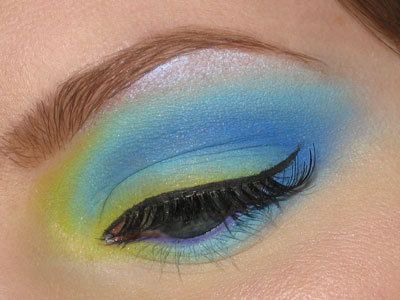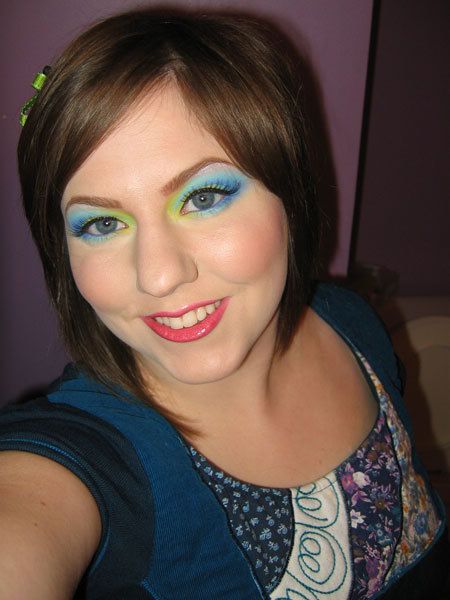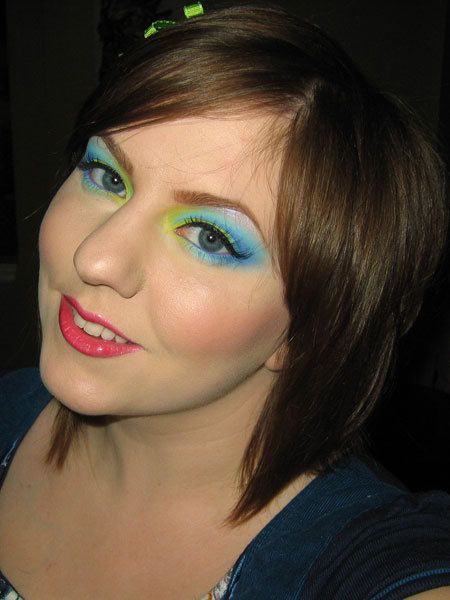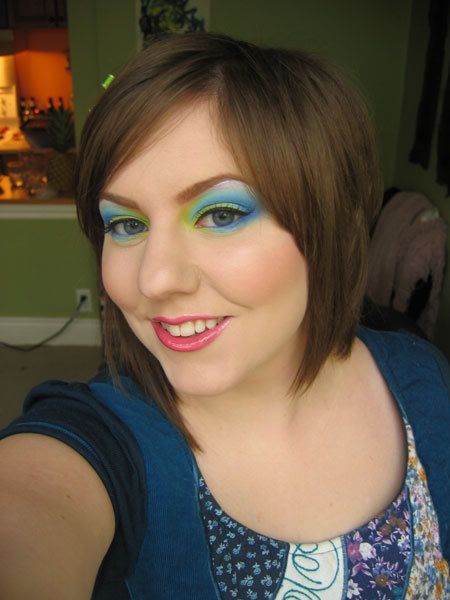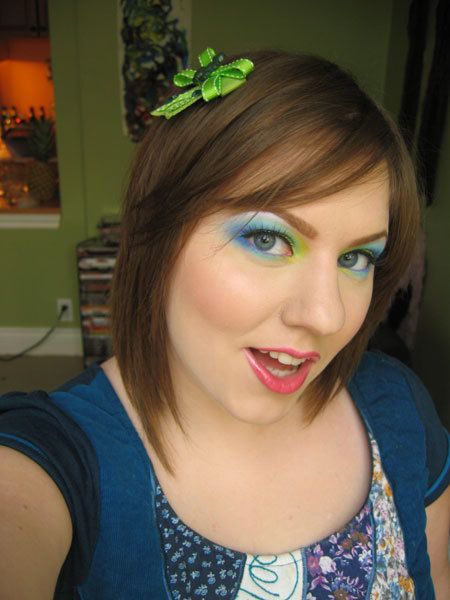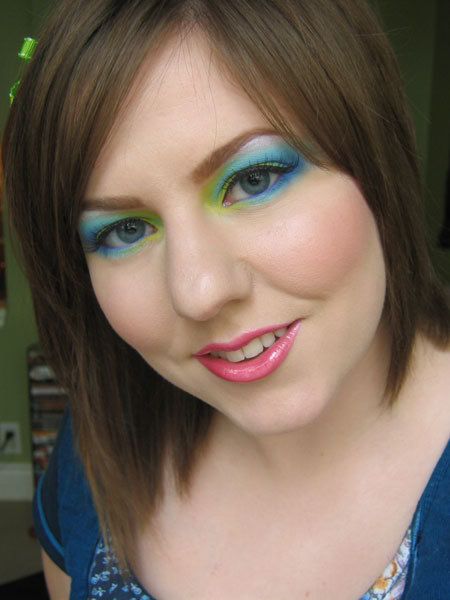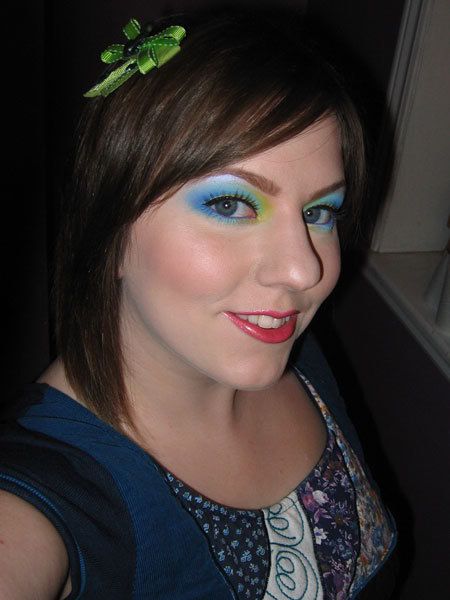 ok, then I added MAC gorgeous gold eyeshadow on the inner corner... see how the green looks more brilliant and intense? that's why!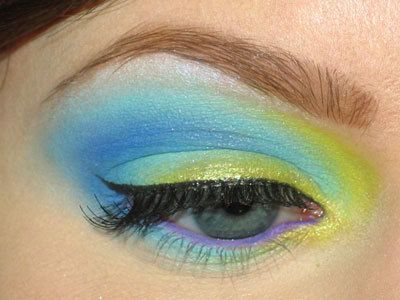 then I added MUFE #92(gorgeous deep, true matte purple) to the crease to make it more dynamic... i think i liked it?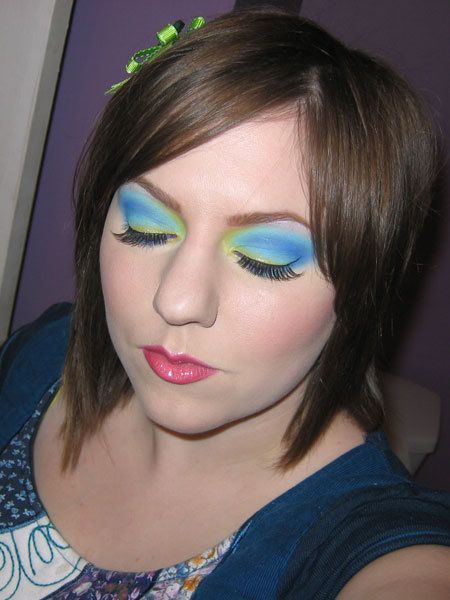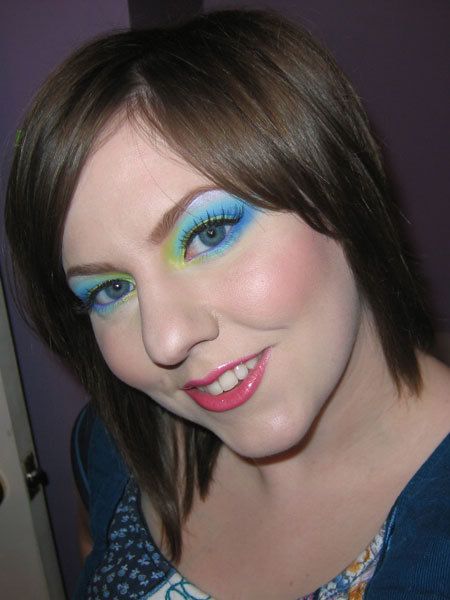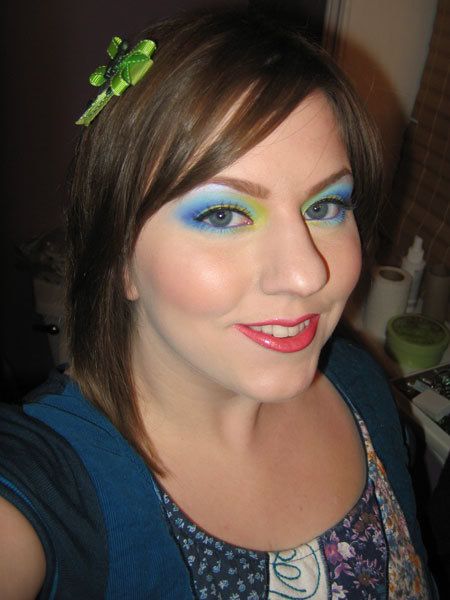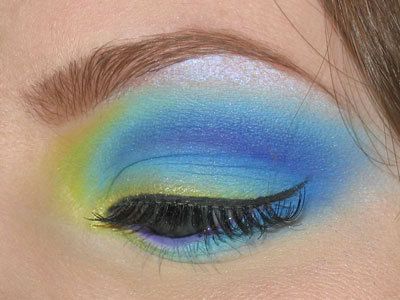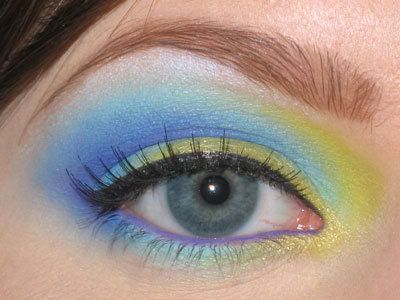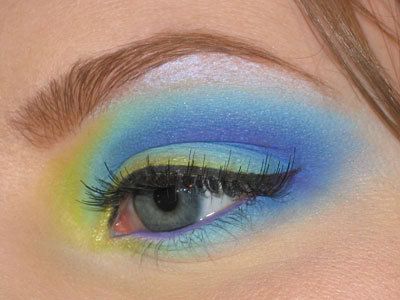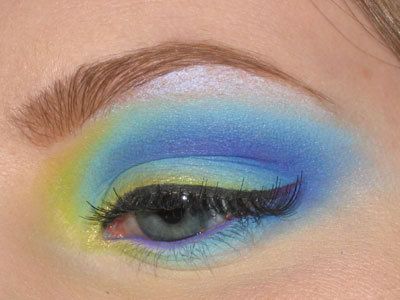 FACE:
EM Golden Fair + Fair Neutral mixed
EM Intensive Fair concealer
BeneFit High Beam on cheeks,chin
MAC Fleurry blush
MAC Don't Be Shy blush
EYES:
MAC Pharaoh paint pot on inner lid
MAC Otherworldly paint pot on middle lid, above crease, middle lower lid
MAC Electro Sky paint pot on outter lid, crease, outter lower lid
MAC Bitter e/s on inner lid over pharaoh
MAC clear sky blue pig on middle lid, above crease over otherworldly, on lower lashline
MAC electro sky e/s in crease, outter lower lashline over electro sky paint(so glad to have these two matching colours in their respective formulas!)
MUFE Pearly Waterproof e/s pencil in 12P to highlight on browbone
MAC omega & coquette e/s on brows
MAC blacktrack f/l winged
MAC eye pencil (pro) in lavender on lower lashline
MUFE #92 lightly over lavender on lashline
Quo #802 lashes
LIPS:
MAC Punkin' l/s
MAC pulsesetter chromeglass
but i changed it to just pulsesetter later
then, to EYES, i added MAC gorgeous gold, applied with a dampish brush
then, to EYES, i added MUFE #92 lightly in the crease.