So some of you ladies may be wanting to move away from the neutral, natural makeup and want to try brighter colors on your eyes, but maybe you don't know where to start, or maybe you are too afraid of looking strange for making such a big change. This "How To" will give one perspective on how to transition from the neutrals to the brights without having to buy a ton of eyeshadow, in fact you may already have some of these colors!
Something that many people don't realize is that metallics are neutral colors. They really go with almost everything! Here is a picture of my Metallics Quad:
This quad contains Goldmine, Silver Ring, Mulch and Coppering.
Any gold, silver, bronze or copper eyeshadows will work. The bronze and copper eyeshadows are less needed, the key ones are the gold and the silver. You may not believe how much use you can get out of these eyeshadows when you pair them with brights. For example below is a picture of this quad with Tilt e/s: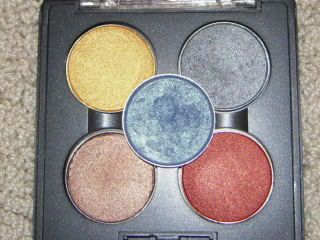 See how every color in this quad goes well with Tilt? That right there is 4 color combinations that you can use with one eyeshadow if you have these basic metallics in your collection. Let's try another example: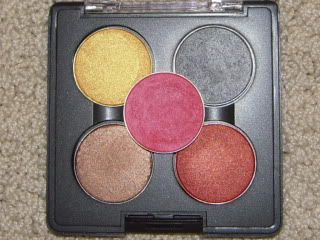 The eyeshadow in the middle is Sushi Flower. See how it to goes with all of the colors? If you have even just a gold and a silver you can tone down the bright color and make it less noticable but still be really fun! And then when you start your brights collection you only have to buy one eyeshadow at a time to have a whole slew of new looks!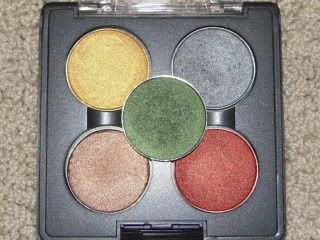 The metallics with Humid.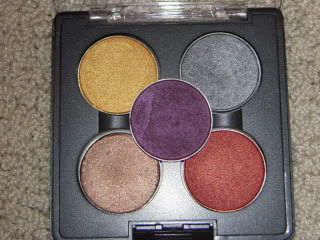 The metallics with Nocturnelle.
Almost every color can be paired with all four eyeshadows, see? Metallics are a fantastic way to get the most bang for your buck out of your eyeshadow collection, especially if you are on a budget. A gold and a silver can go a long way! I hope that this helps some of you and inspires you to at least think about branching out into the world of brights. I hope you liked it! Comment me below if you liked it or have any suggestions on how to improve it!