too excited about all this stuff not to share! this is from about the past two weeks or so....i've been on kind of a binge and now i'm officially on a moratorium for a month and a half.

this stuff is from sephora, mac, ulta, and makeup geek (the pigments and nyx shadow). i am lucky because within my one mall, i have THREE mac counters!
nyx frosted ocean (this stuff is gorgeous, and one of the best nyx shadows i have tried), HIP pigments in exciting and restless (which i heard is a good dupe for vanilla pigment), goldmine, club, and young punk (been searching forever and one of my mac counters had ONE left! so excited!)
too-faced starry-eyed liquid eyeliner in silver lining, nyx jumbo pencil in pots and pans, sephora flashy liner in flashy brown (omg, this stuff stays on FOREVER--seriously, i tested it and it lasts at least 2 days), UD 24/7 pencils in honey and covet, and anastasia brow powder in ebony
hue (my new HG), up the amp, saint germain, morning glory, ever so rich (the only cremesheen glass they had), eclectic edge (got it in the going going gone section on mac's website, again, super lucky cuz it was the only color left), and funtabulous
annnnd my pigments!!!!!
bright fuchsia=amazingness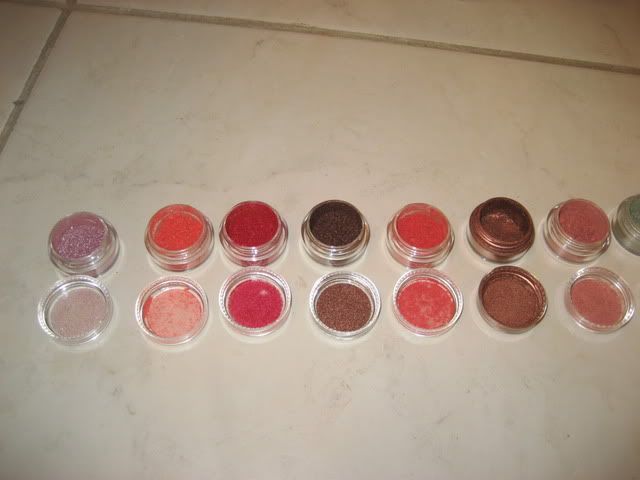 full force violet=no words to describe this. i stared at it for like a minute straight.
hope you enjoyed