this
was my collection in november of 2007. i got bored the past few days so i decided to take pictures of how big it is now.
looking at these pictures makes me realize what a problem i have :/ ughhh. oh well. if you want to know what anything is, let me know and i'll try to remember/find it. it was too much of a pain to list the names of everything while doing this, hah.
how i store my collection (in the 1.6 mac train case, woo. best christmas present ever!)
how it looks open. i can't store everything i have in there because my collection has gotten so much bigger. so i store a lot on my dresser as well.
my MSF collection. i just recently swapped metal rock (for a great deal, don't worry!). but yes, i am obsessive and had every msf ever made.
BACK ROW, TO FRONT ROW, LEFT TO RIGHT:
porcelain pink, shooting star, naked you, petticoat, stereo rose, glissade
gold spill, warmed, pleasureflush<333, lightscapade, light flush, northern light
global glow, metal rock, shimpagne, new vegas, so ceylon, gold deposit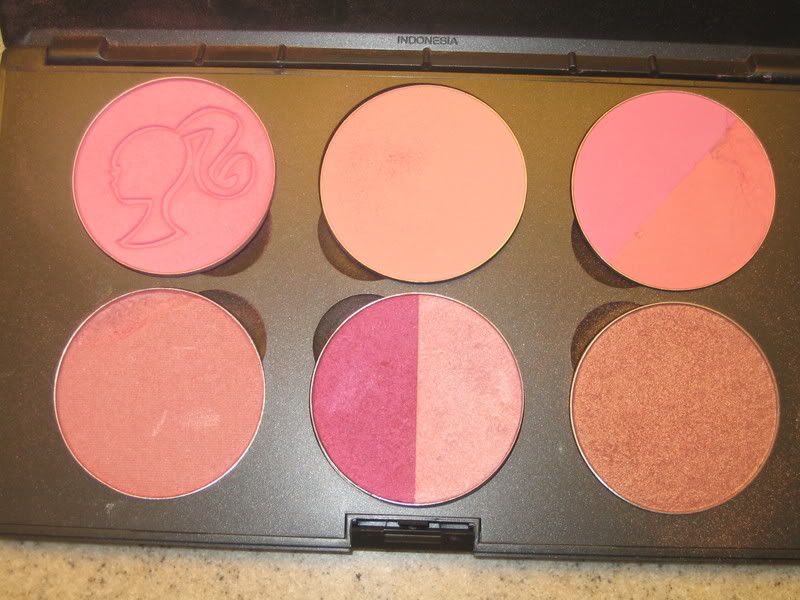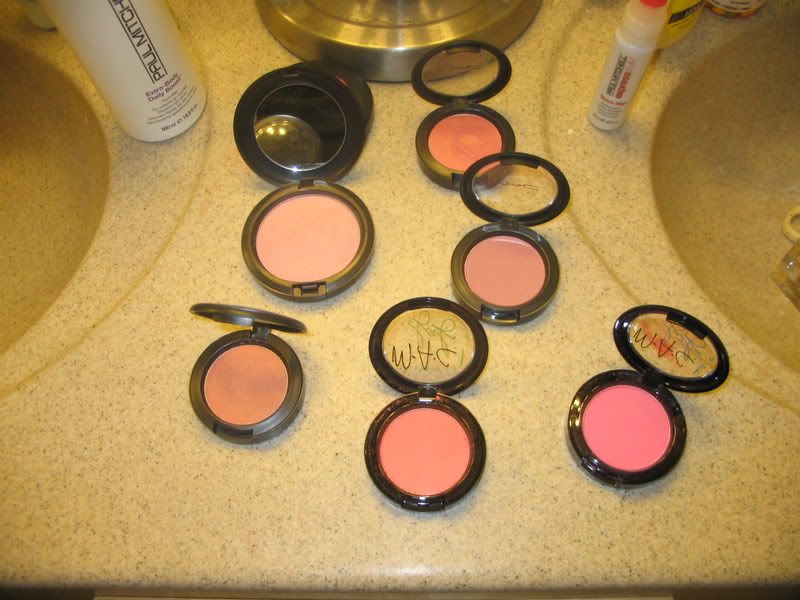 blushes, cream blushes, beauty powders, and my only beauty powder blush.
my face products: foundations, select moisture cover, msf naturals/ sculpt and shape, some samples and i threw my glittershimmer in there because i forgot to put in the picture with my blushes.
my lip products. i somehow have misplaced all of the mini lipglasses/lustreglasses from the holiday sets i had, except for ONE lipglass. hahaha.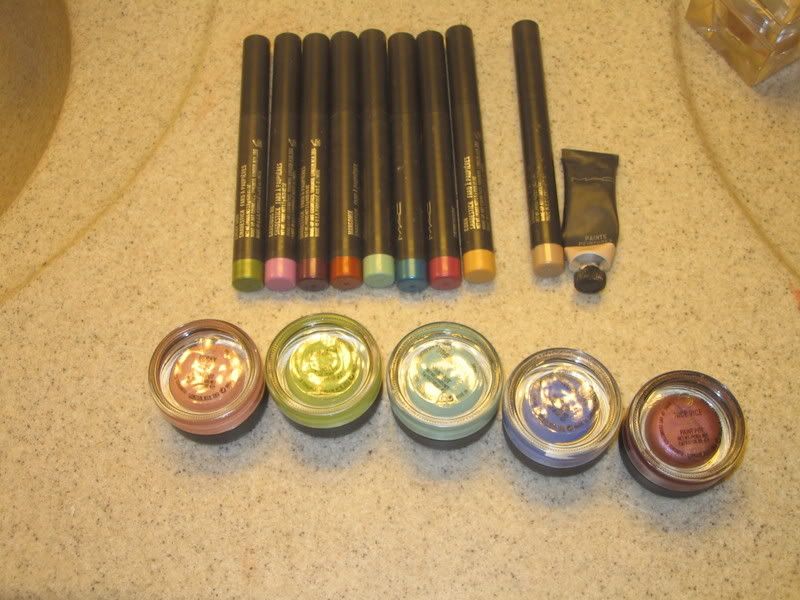 eyeshadow bases: shadesticks, paint pots, and my one and only paint.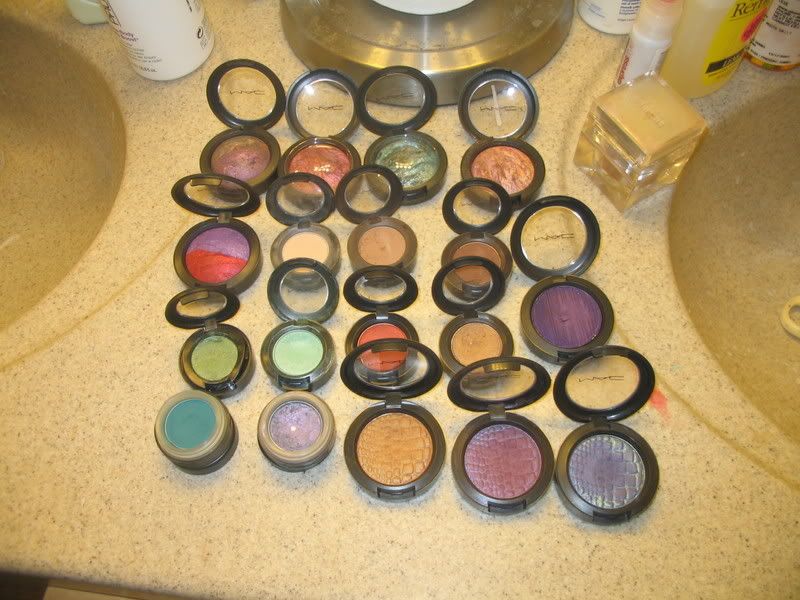 misc eyeshadows. ones that need to be depotted, rare screwtop e/s: riot and haze, the mineralized eyeshadows, metal x shadow (pink ingot is missing, i found it under my dresser shortly after i took the picture), my rare chroma eyeshadows.... i am missing one of them, must be under my dresser...
my fluidlines, eye kohls/brow pencil/heatherette dual edge pencils and my pencil sharpener (yes, i have a MAC sharpener just because it says MAC, hahahaha)
my eyeshadow palettes: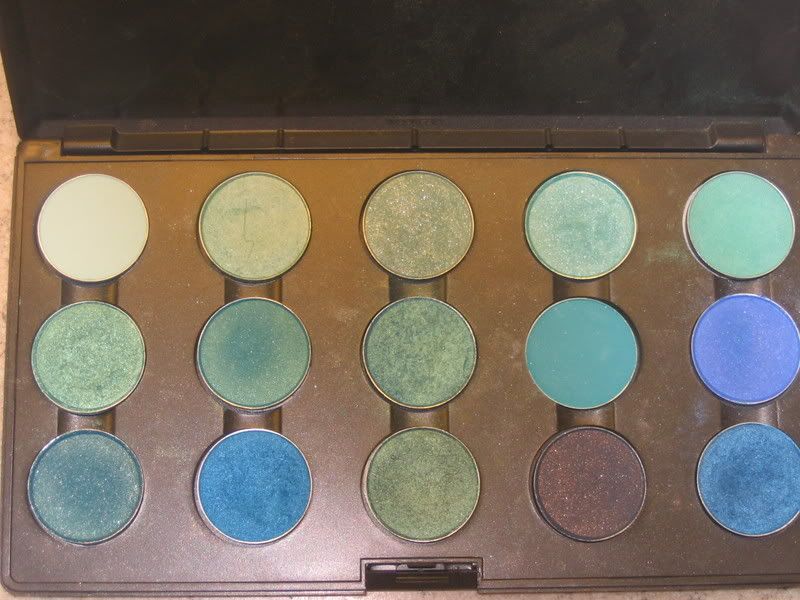 blues
purples
yellows/greens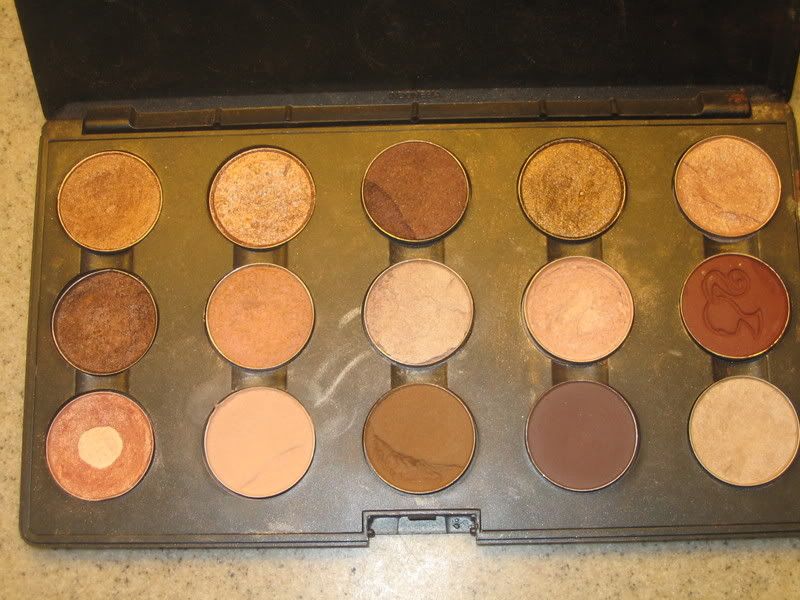 neutrals/browns. somehow this palette had a little accident in my traincase and a lot of the eyeshadows got pretty banged up/chipped. saddddd.

oranges/pinks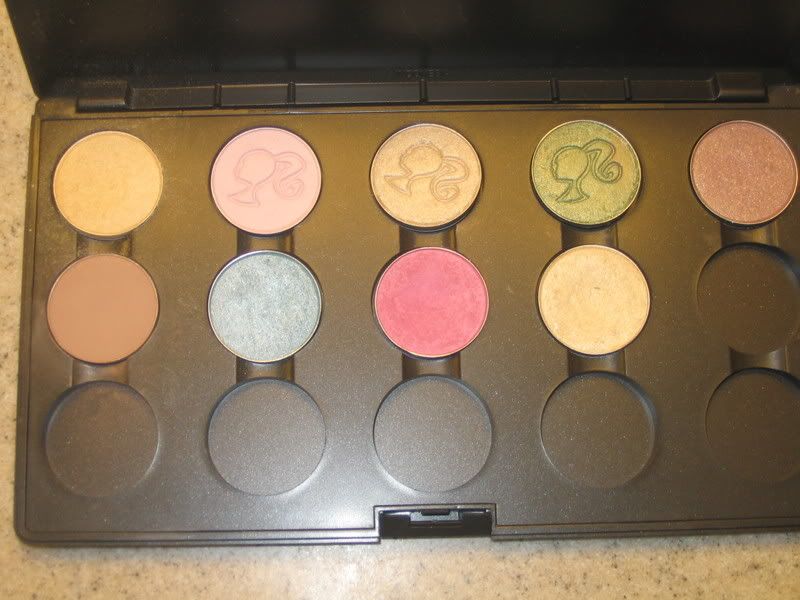 misc eyeshadows with no homes because all my other colored palettes are full.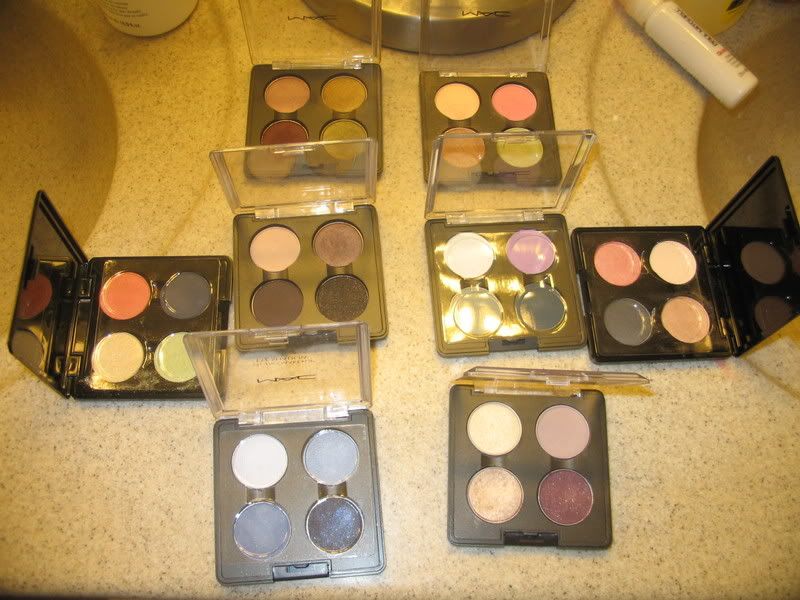 limited edition quads.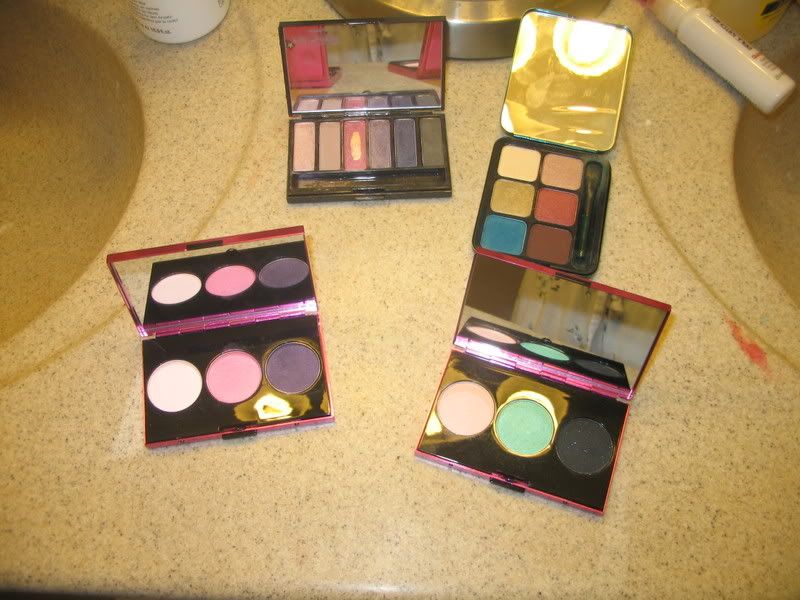 limited edition palettes. (my suedette palette is MIA, wtf)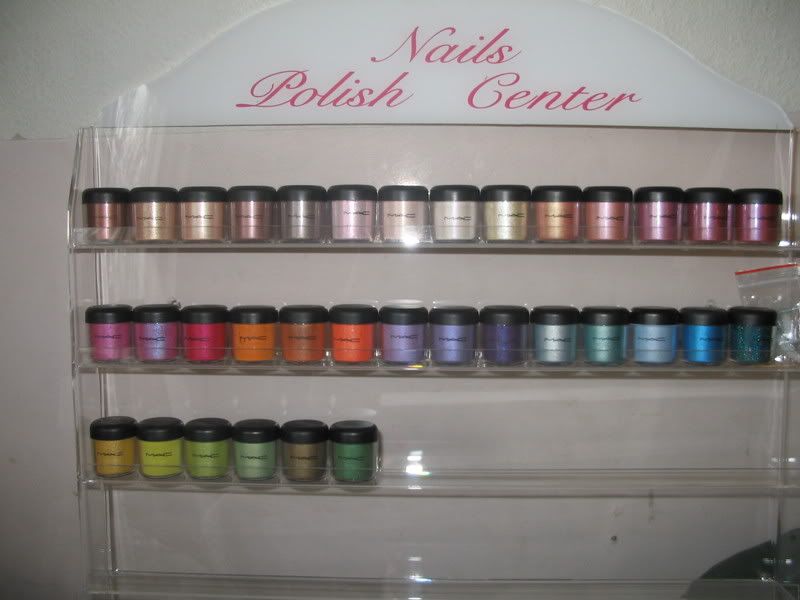 pigments. when i bought the rack, for some reason i thought the dumb 'nail polish center' sign was removable, but it's not. now i'm going to just put mac postcards over it

misc pigment samples/pressed pigments.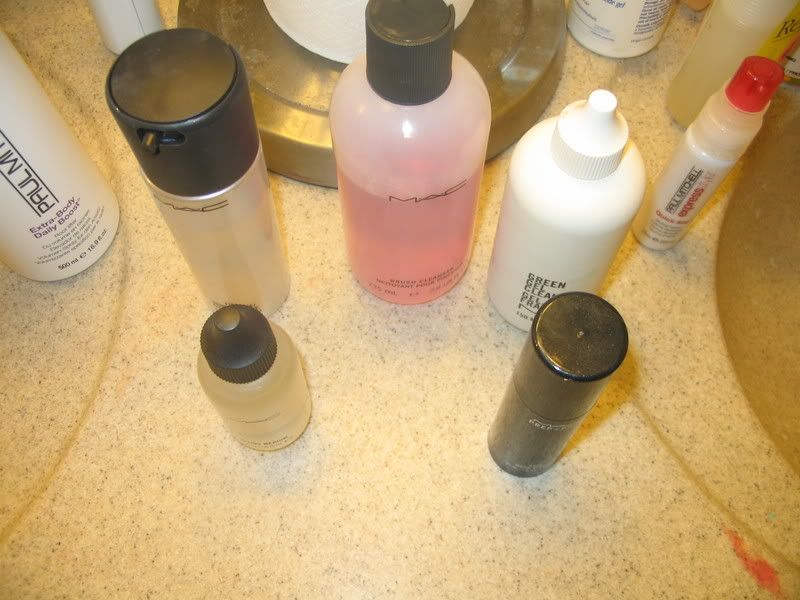 skin care products/mixing medium/blush cleanser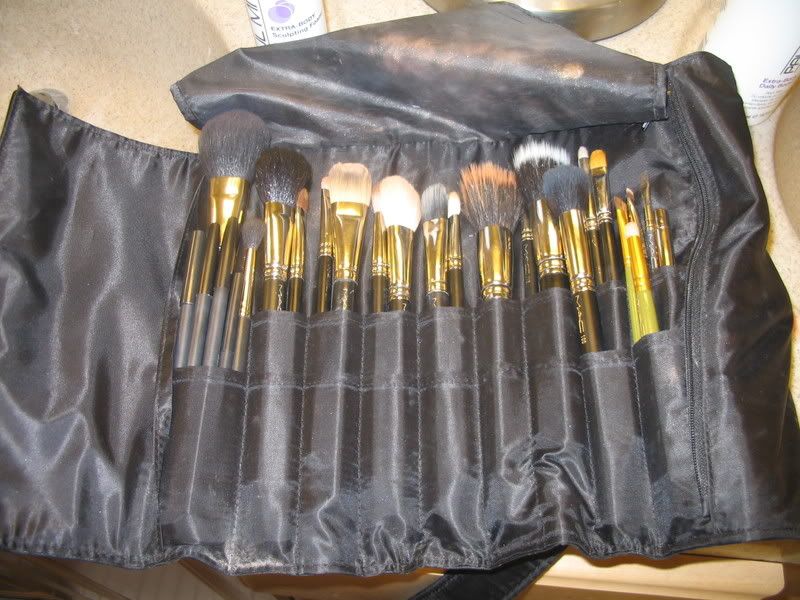 how i store my brushes: in the mac brush roll. sorry it's hella dirty. my sister is an idiot.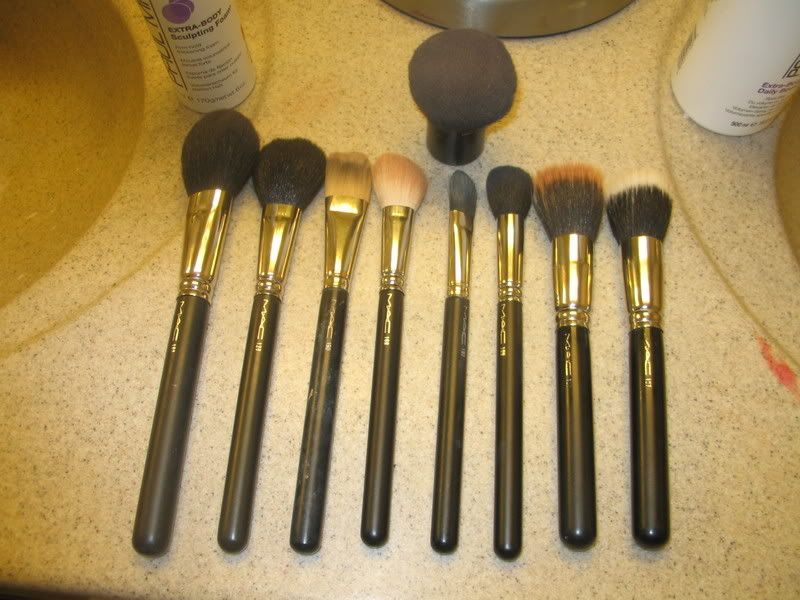 face brushes. sorry they're dirty. haha.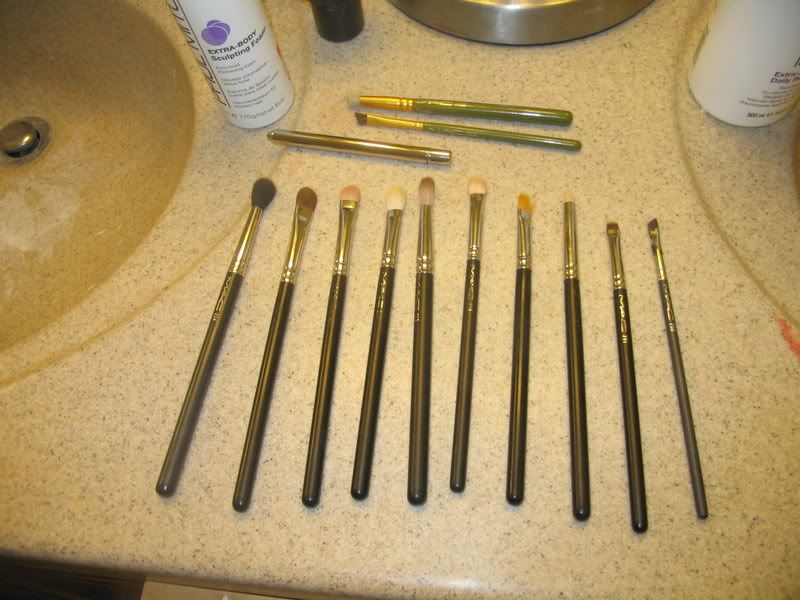 eye brushes, my two shitty SE brushes that i can find (all the others are MIA, i treat them like they are drug store brushes now that i have a lot of full sized ones, anyway. hahaha), my one lip brush!