Hello sweeties! like many of you i press my piggies all the time but my glitters always sit there looking so sad cause they can't join the fun but now they can! This is what you'll need to press them. Sorry no pictures but i'll try to make this as easy as i can.
You'll Need:
Glycerin
Alcohol (i use 91% it dries faster)
A Small bottle with a dropper nozzle or an eye dropper
Your glitter
a pan
a piece of jean or pretty materiel
a quater
Step one:
Make a mixing medium using the alcohol and the glycerin. 3 parts alcohol to one part glycerin. This means if you use 3 tp of alcohol use 1 tp of glycerin. This of course goes in your bottle or jar.
Step two:
Coat the bottom of your pan with your mixing medium. This normally takes about 2 to 3 drops.
Step three:
Add your glitter and saturate it with more mixing medium. You want it to be runny so when it dries down the glitter sticks together better. Repeat the step if nesscary to fill the pan to desired fullness.
Step four:
Wait about 2 hours to press. This will ensure that the alcohol has evaporated and that the glycerin has bonded the glitter together.
Step five: Take your pretty material or piece of jean and lay it on the pan. Press with the quatter. Not too hard just enough to give it a little extra packing and to leave a cute design behind.
Step seven: Use it and be a diva!
This is pretty straight forward if you already press your piggies. I hope this helps some of you and if not theni hope it wasn't a waste of time. If you need any help or info please let me know. Thanks!
Update!!:
http://img.photobucket.com/albums/v6...y/CIMG0420.jpg
This is all five that i have done so far. top left: 3d silver top right: reflects very pink middle: reflects bronze bottom left: jewelmarine bottom right: reflects duo purple.
http://img.photobucket.com/albums/v6...y/CIMG0421.jpg
Reflects bronze close up
http://img.photobucket.com/albums/v6...y/CIMG0422.jpg
all five swatched together
http://img.photobucket.com/albums/v6...y/CIMG0423.jpg
close ups
http://img.photobucket.com/albums/v6...y/CIMG0425.jpg
more close ups
They came out sooo creamy. They feel just like running your finger over a pigment in my opinion. They didn't turn out gritty or anything but thats why you have the saturate them in the glycerin. They have very good grip too. They won't just brush off
And this is my fearless sidekick Jack!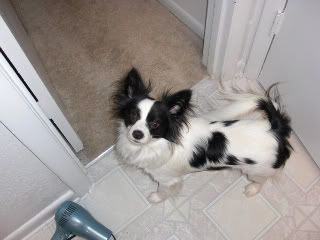 He's gotton himself died pink quite a few times but he's always there when we do makeup stuffs.