This is why I haven't been posting FOTDs lately...I burned my face very badly with hot wax and it left some
pretty
nasty
looking
scars,
so I couldn't wear makeup. It's mostly healed up now and the scar tissue/flaky skin has mostly flaked away, leaving dark discoloration all over my left cheek and on the upper part of my right cheekbone.
So, this is how I've been getting around it recently, now that I can wear makeup again. My goal was to detract attention from the cheeks by having big, bright eyes and lightly glossy lips.
I did use a very sheer foundation, as I don't want to suffocate the scars/healing area too much, and I think some scars add character (even if it is "um, yeah, I'm stupid and did this to myself via facial waxing").
I'm sure you could get more coverage if you used a slightly heavier foundation, or if you chose to use a concealer first. It might be difficult to find one that'll blend in with the black-brown color of the scarring, though. Even the one I used, which is a perfect match for me normally, looks slightly ashy over the darkness of the scars.
Face:
MAC Select Tint foundation in NC45
Sonia Kashuk foundation brush
Sally Hansen Cornsilk "No Color Matte" face powder
Eyes:
Wet 'n' Wild H2O Proof black liquid eyeliner
Prestige waterproof pencil eyeliner
Wet 'n' Wild kohl/eyeliner/brow pencil in Mink Brown
Maybelline Volum Express Turbo waterproof mascara
Wet 'n' Wild Mega Eyes creme eyeshadow in Cafe au Lait (highlight)
Lips:
Davie's Gate Pink Grapefruit lipgloss
This is how my left cheek looks with no makeup.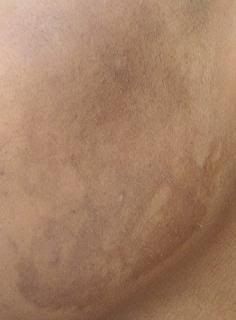 Close up. You can see the skin is mostly smooth now, but still dark.
Right cheek.
So we start! Foundation on the hand.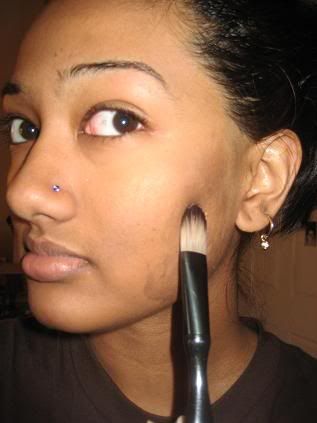 Apply in a "patting" motion instead of brushing.
This is halfway done.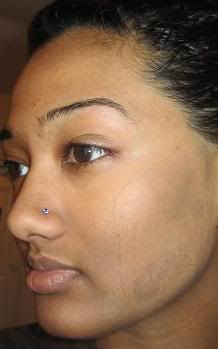 Mostly covered now.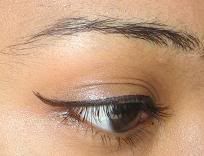 Apply slightly winged black liquid eyeliner.
Curl lashes and apply oodles of mascara (yes, OODLES!

)
Also line waterline, and add highlight in inner corner/browbone.
Draw in brows.
Apply lipgloss, and lightly powder face. You're done!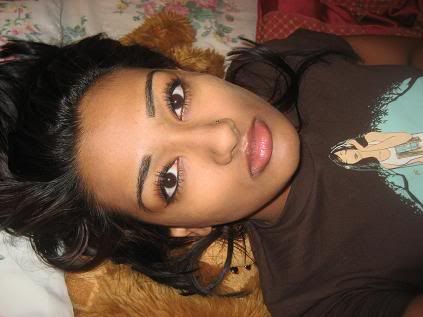 There.​