Here's my updated stash. I think it's actually gone down in size since I have sold or swapped a lot of items I didn't really use, but i still love it. Enjoy the eye candy!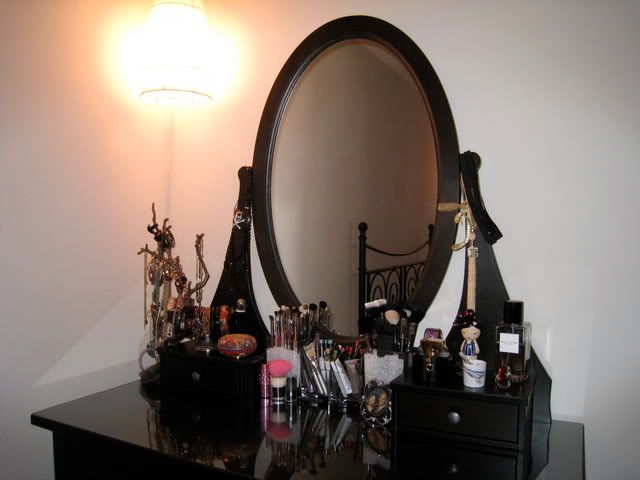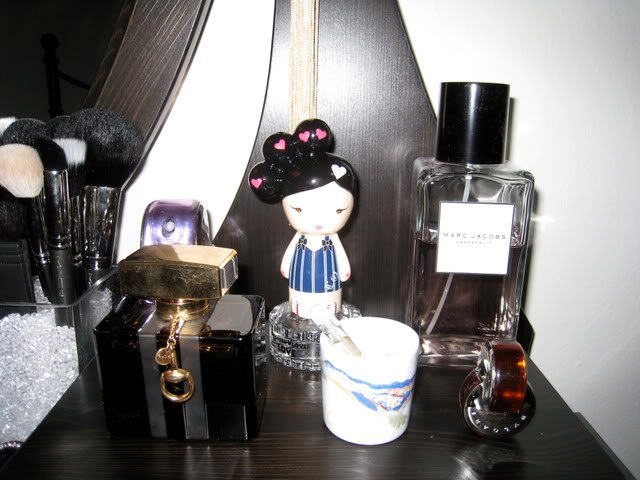 My little perfume collection: Bvlgari Omnia Amethyste, Harajuku Lovers LOVE, Marc Jacobs Grapefruit Splash, Gucci by Gucci, and some samples. I also have the LE Air of Style from Stylistics but the perfume bottle doesn't stand up on it's own so I decanted it into a roller ball.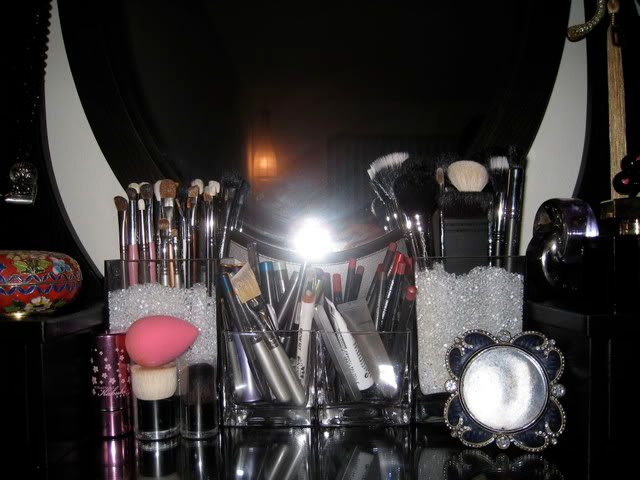 Brushes, Eyeliners, Lipliners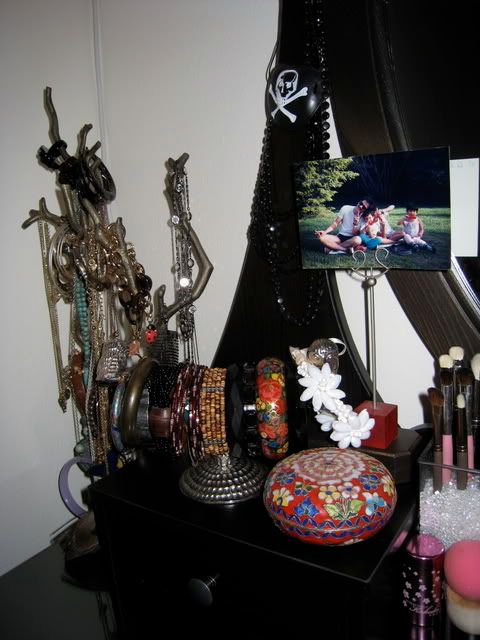 Jewelry and things
I keep my lovelies in the top drawer...
Lip stuff, some eye stuff, face stuff
Shadow and blush palettes
Close ups...
Face Brushes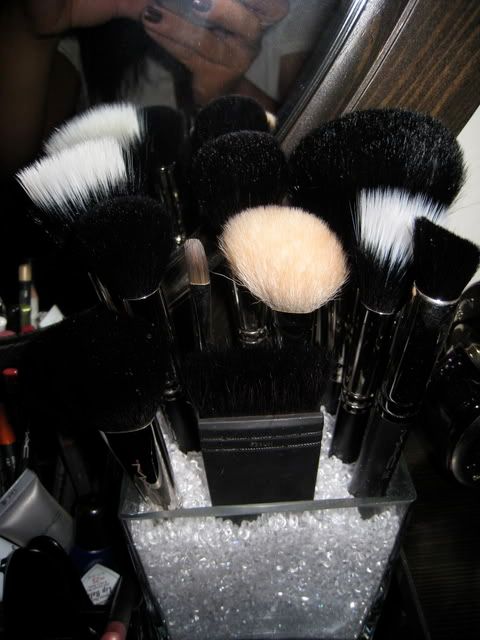 109, 116, Stylistics 129, 134, 162, 168, 187, 188, 194, and a NARS Ita
Eye Brushes and Kabukis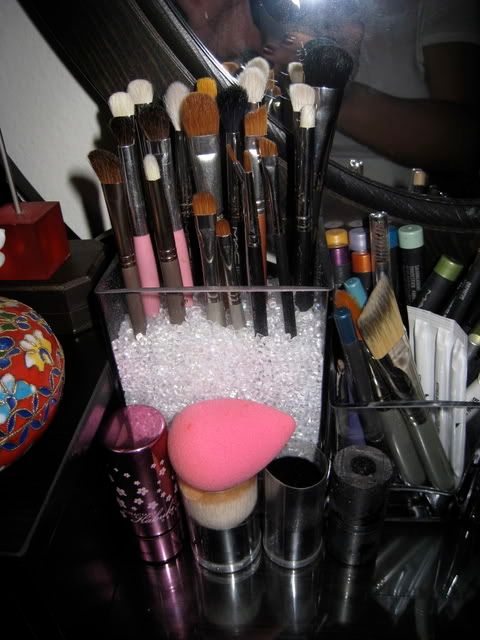 209, 217, 219, 219SE, 222, 224, 227, 239 (2), 242, 266, 272, 275SE, Sonia Kashuk Bent Eyeliner, Sane Large Angle, Sane Large Shader, Sephora Fluff, and Sephora Crease. Kabukis - Too Faced Retractable Kabuki, 183, 181SE, BeautyBlender and my Japonesque dual end sharpener
Teals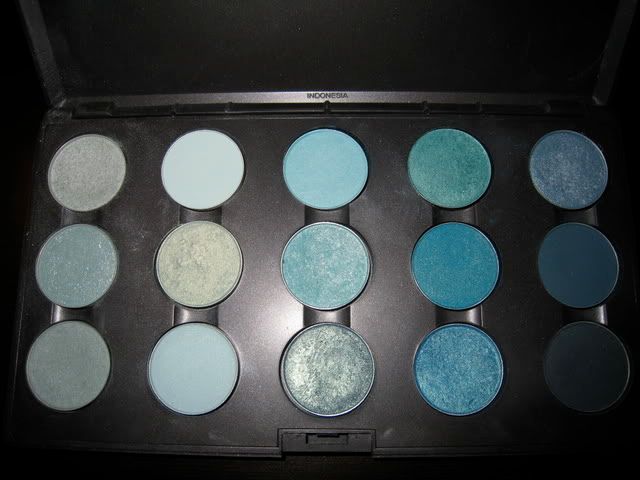 Row1: Brill, Aqua, Haunting, Gulf Stream, Moonflower
Row2: Peridot, Warm Chill, Aquadisiac, Big T, Stormwatch
Row3: Prose and Fancy, Hipnotique, Steamy, Parrot, Plumage
Blues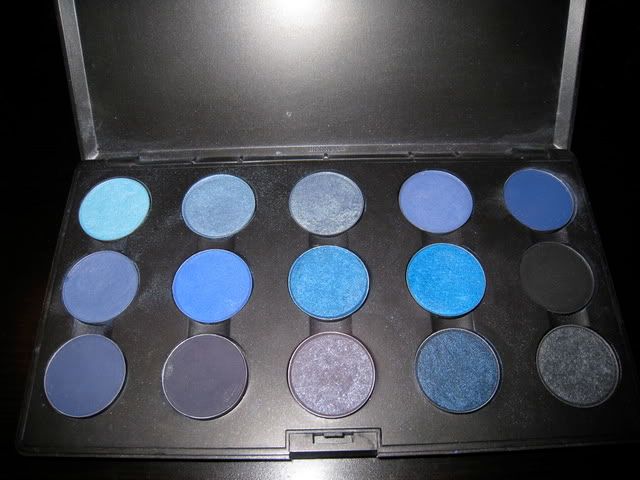 Row1: Sky Blue, Moon's Reflection, Tilt, Nile, Climate Blue
Row2: Fountainbleu, Bang On Blue, Freshwater, Blue Calm, Cloudburst
Row3: Naval, Blu Noir, Well Plumed, Flashtrack, Knight Divine
Purples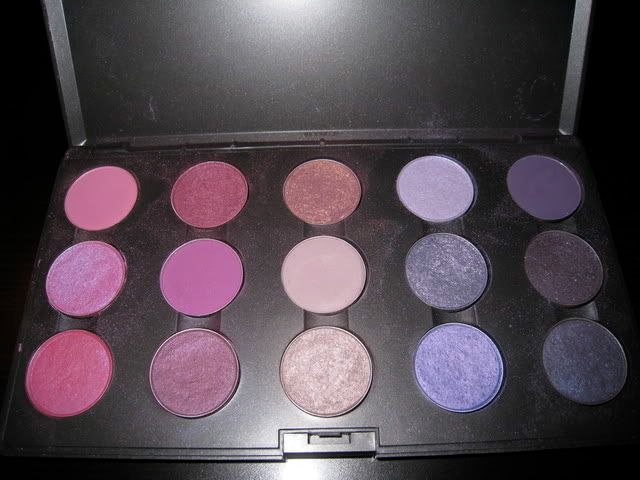 Row1: Melton Mauve, Plum Dressing, Trax, Beautiful Iris, Indian Ink
Row2: Stars 'N' Rockets, Vibrant Grape, Dovefeather, Amethyst, Fertile
Row3: Romping, Nocturnelle, Shale, Parfait Amour, Thunder
Pinks & Burgundies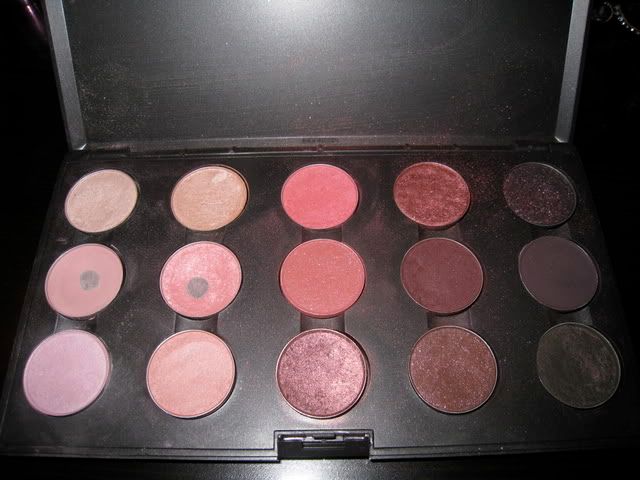 Row1: Phloof!, Jest, Sushi Flower, Cranberry, Beauty Marked
Row2: Mink Pink, Pink Venus, Full Flame, Sketch, Shadowy Lady
Row3: Petalescent, Girlie, Star Violet, Agate, Smut
Greens
Row1: Metamorph, Silly Goose, Guacamole, Newly Minted, Saturnal
Row2: Bitter, Bio Green, Velvet Moss, Bottle Green, Club
Row3: Pagan, Sprout, Humid, Femme Noir, Fiction
Yellows & Oranges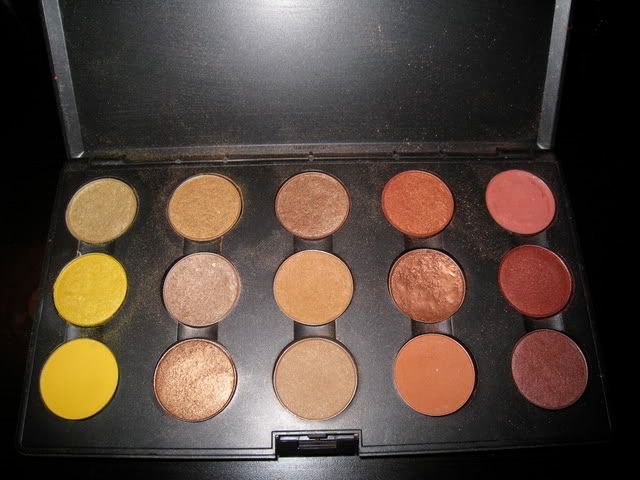 Row1: Gorgeous Gold, Goldmine, Cosmic, Firespot, Peppier
Row2: Bright Sunshine, Bagatelle, Juiced, Courage, Coppering
Row3: Chrome Yellow, Amber Lights, Ochre Style, Rule, Falling Star
Whites, Silvers, Blacks, Taupes and other random ones
Row1: Gesso, Mothbrown (Madame B.), Vex, Rite of Spring, Rice Paper
Row2: Rondelle, Silver Ring, Coquette, Brule, Blanc Type
Row3: Electra, Carbon, Botanical, Nanogold, Solar White
Browns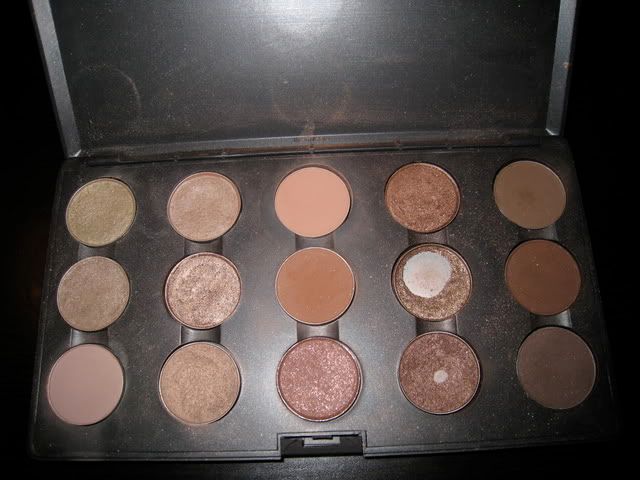 Row1: Summer Neutral, Era, Soft Brown, Bronze, Espresso
Row2: Warming Trend, Woodwinked, Saddle, Tempting, Ground Brown
Row3: Kid, Patina, B-Rich, Mulch, Mystery
Blushes
Row1: Hipness, Buff, Fab
Row2: Otherwordly, Afterdusk, Azalea
My modified travel palette (scult & shape pans, pressed piggies)
BPs, IPs, & MSFs
Row1: Smooth Harmony, Pearl Sunshine, Light Flush
Row2: Softdew, Sassed Up, New Vegas
Other Mineralized Blushes, Loose BPs, and other highlighters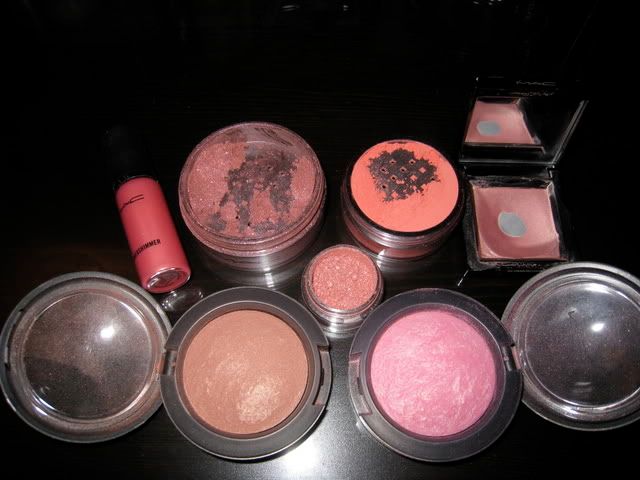 Row1: Shock & Shine Glimmershimmer, Soft Flame LBP, Hundred Degrees Pearlizer, Joyous BPB (broken), Rare and Refined Richmetal Highlighter
Row2: Warm Soul, Pleasantry
NARS Bronzers and Blushes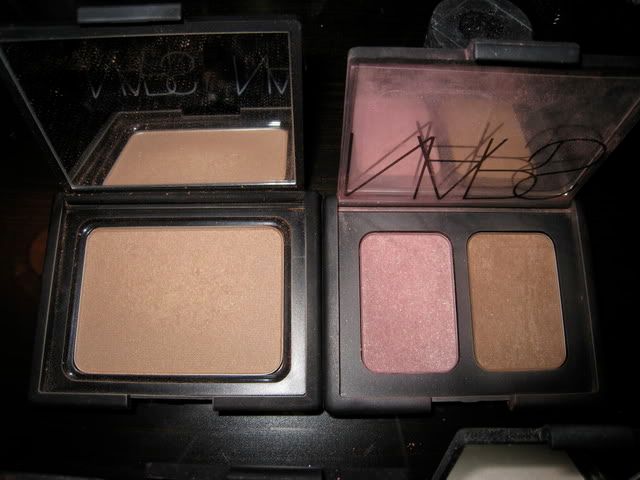 Laguna, Sin/Casino Duo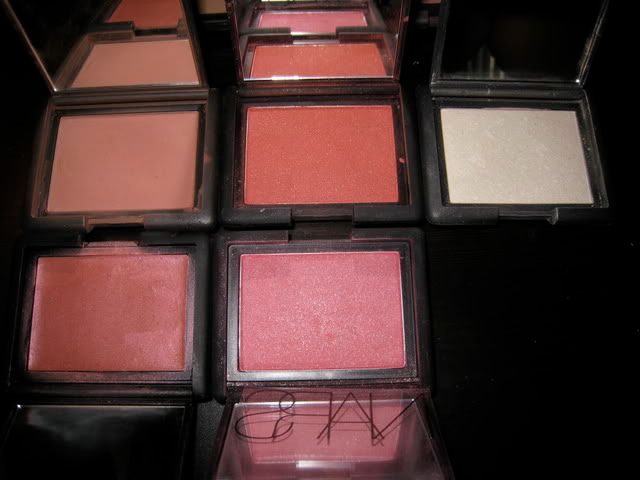 Row1: Plaisir, Taos, Albatross
Row2: Gueule de Nuit, Crazed
My lippies:
Glosses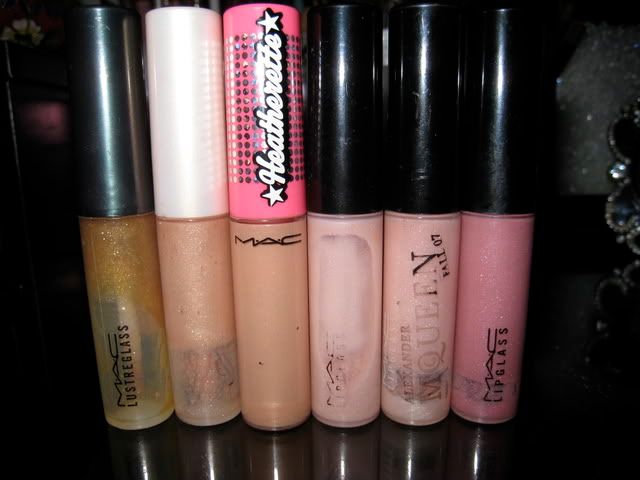 Spring Bean, Elaborate, Bonus Beat, Trifle, White Magic, VG VI SE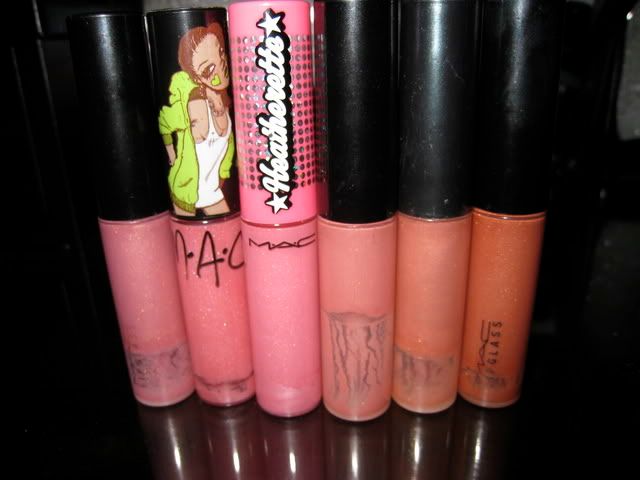 Pink Meringue, Cult Fave, Starlet Kiss, Lip 65, Love Nectar, Bendel Girl
Sock Hop, Apex, Pink Grapefruit, Boundless, Totally It, Love Rules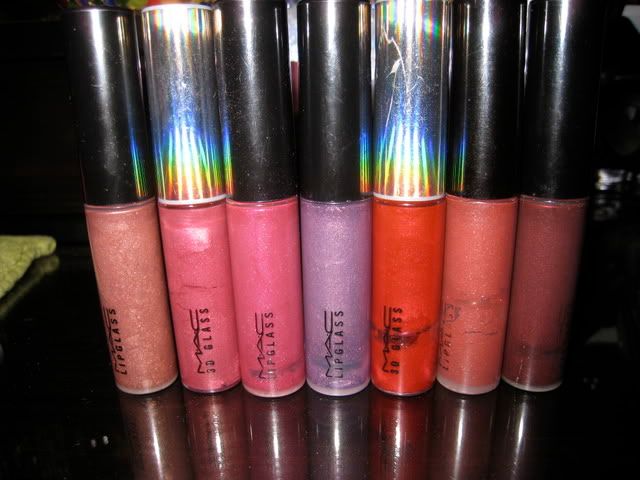 Liqueur, Algorithm, Hothouse, Atmospheric, Racy, Gitane, Bazaarish
Longwear Lustres
Boss Brown/Slave to Pink, Custom Rose/Pink Virtue, Ripe & Ready/Soft & Lush, Red Flame/Orange Flicker
Slimshines
Bare, Pink d'Lush, High 90's, Swelter
Mattenes
Flattering, Tango, Classic Dame, Kirsch, Bing
My lipsticks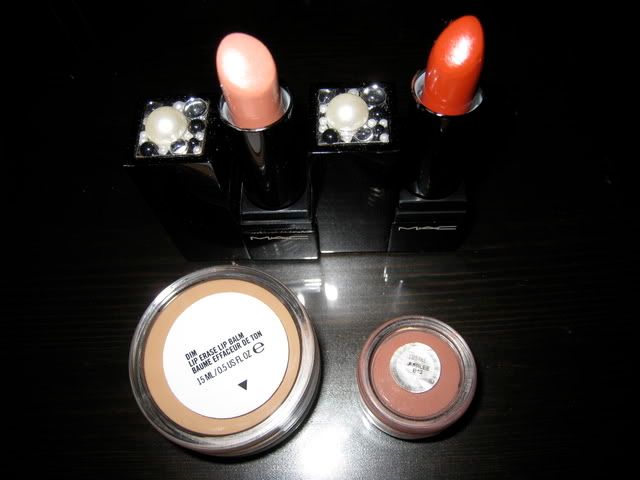 Soft Pout, Stylistic
Dim Lip Erase, Jubilee
More pics coming soon: quads, paint pots, pigments, fluidlines, etc.
Oh and for reference...
Vanity: Ikea Hemnes Mirror Chest
Storage: Ikea Anordna Lyx